Golden Retriever
Retriever Golden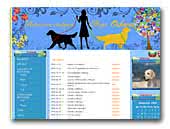 Mega Oskaras - Golden retrievers
and flatcoated retrievers kennel
"Mega Oskaras" is golden and flatcoated retrievers kennel. We are in Lithuania, Vilnius. You can contact us anytime and we will help you to find your new best friend.
Flat Coated Retriever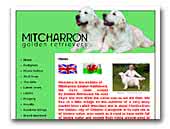 Mitcharron Golden Retrievers
We are a small kennel who breed golden retrievers to the highest standerd, all our puppies are reared in the home, and as close to the breed standerd as possable.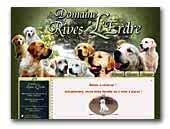 Le domaine des rives de l'erdre
Le golden retriever est un chien doux, calme et intelligent, ce qui en fait un excellent chien de famille. Nous sommes situés à Cordemais dans le 44.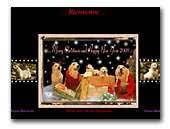 Seven's Dream Golden retrievers
Elevage passion depuis 1990. Nos chiens et nos bébés vivent en famille, à la maison avec nous. Bébés disponibles occasionellement. Uniquement LOF pucés et vacciné, parents testés dysplasie et TO.

Photos de nos golden, de nos chiots, pedigrees, résultats d'expo et mariages ... Bonne visite! Nous sommes situés non loin de Nancy, proche de l'alsace, à 4h de Paris.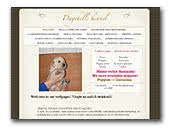 kennel Dagchells Golden retriever
Home of many championship holders.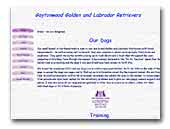 Gaytonwood Golden Retrievers
A small kennel which breeds goldens which have the ability to compete in any sphere or just be a wonderful companion.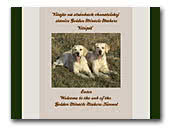 Golden Miracle Makers kennel
Welcom to the web of the Golden Miracle Makers.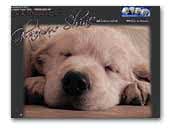 Glamour Shine kennel
Glamour Shine kennel is specialisated in breeding, rasing and showing golden retrievers. Kennel is registred under FCI 141/08 and name Glamour Shine. We breed under FCI rules, Croatian kennel club rules and rules of Croatian retriever club. We are active on dog shows. All our dogs in breeding passed their health tests on hyp & elbow dysplasy and have heart and eyes clear. We breed only on quality and healthy lines. Our females don't have more than 3-4 litters in life and more than one in year - year and half.

All our dogs are firsty our pets and we threate them like members of our family. We love them very much and we are very thankfull to breeders from which lines they are from because they fill our days with great joy and love! All our puppies are raised inside our home. They were born in my room, near my bed under 24 care of us and their mother on warm and clean place. We regulary deworm them, vaccinate them against puppy ills and corona virus up to the age of 7 weeks and prepare them for new homes, build their personality which is not so hard job because they are already very selfconfident and playful and used to different sounds, floors and people so that socialisation part isn't very hard. We care so much for our puppies and we try to find out as much as we can about their new owners and educate them every day before and after their puppy came into their homes.

We are very strict in choice of new owners and It is very important to us that new owner is a great person with big heart which has very much space for unbelieveable dog love. Every litter is carefully planned in our kennel and It is not always easy job to make this plan true. We give more than 100% ourselves in puppies and no matter how It is hard sometimes we give them all possible love and care. The same we except of new owners. Puppies are our joy, our love and our job to improve this wonderful breed. We always choiche the best possible stud dog for our girls, It takes a lot time to plan, study pedigrees, health, progeny, temperament, look and natural abilities. We are always trying to sum up all this in one which is aim of all good breeders, but you can never get perfect puppy because It is only a living creature. Our kennel is placed in small town in heart of Lika - mountain region of Croatia, just 30 minutes away from Adriatic Sea. Our dogs are always in move, they go with us every day in wood, on lake, sea, countryside our valleys to have free run and training. That's the most beautiful feeling when we saw them how they are breathing with full lungs when they are free in nature. They adore car drive because they know they are always going somewhere where they will have fun. We work with them too.

We are not hunters, and we are against hunting for fun at all, but we like to keep great natural abilities our dogs have and transfer It to their progeny. All dogs in our breeding passed natural ability test and they have great instict for hunt. They like water, swimming, retrivering ducks and dummies... They adore snow and catching snow balls, digging tunnels in snow and running on that white cristals. We are lucky we had a lot of snow last years so they did great job... Except fun, our dogs train to develope themselves in healthy, good looking, proportional dogs with stabile and very kind temperament. It is great to hear from new owners how their dogs are behaving with other pets like cats or with small children. That is the most powerful energy we can get to go on in breeding, It's better and stronger than all wins on dog shows!


« Prev 1 2 3 4 5 6 7 8 9 10 11 12 13 14 15 16 17 18 19 20 Next »