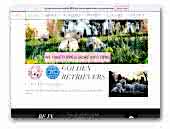 Austellus Dogs
AUSTELLUS DOGS FCI pedigree.

Our goal is to offer friendly, brave and confident golden retriever puppies that make great family pets as well as show dogs. We currently only offer 1 litter per year so we are able to give individual care and love to each puppy.

If you have any questions please let us know.