Labrador Retriever
Retriever du Labrador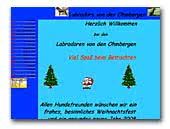 Labradore von den Ohmbergen
Wir z├╝chten labradore in den Farben schwarz, chocolate und gelb. Gr├Â├čter Wert wird auf Gesundheit, FCI-Standard und Familienfreundlichkeit gelegt. DRC Soltau e.V.




Down the Hill Labradors
Labrador breeder located in France/Brittany/near Rennes. Yellow and black labs.

Eleveur de labradors sables et noirs situe en France/Bretagne/pres de Rennes. Etalon sable disponible pour saillie.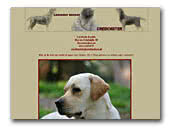 Creekwater Labradors
A small kennel in the Netherlands.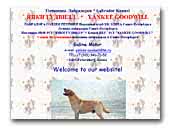 YANKEE GOODWILL Labradors
Kennel RKF-FCI YANKEE GOODWILL, St-Petersburg, Russia. We breed labradors of excellent English and American bloodlines for quality and temperament. There are a lot of my photos of labradors & another breeds from CRUFTS and Potomac on the web-site. Welcome!!! Galina Motor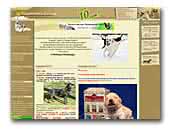 Timantti Solid - Labradors kennel
Targeting on black and yellow labradors, we have First labrador Internation Champion in Russia, first Champion of National Club, 23 International Champion FCI (18 labradors, 5 goldens & 2 dachshunds), more than 100 Champions of different countries.
Golden Retriever
Dachshund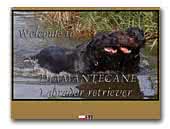 DIAMANTECANE labradors
Diamantecane labradors is a labrador retriever kennel from Poland. We breed with love and passion for dogs.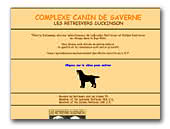 Les Retrievers Duckinson
Le Labrador Retriever et Goldens Retriever en France.
Golden Retriever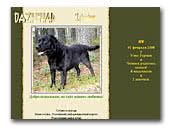 Starz Meriland DAZY CHAP
Labrador Retriever
Web site about my frend - black labrador Starz Meriland DAZY CHAP (Internation Champion, Champion Russia, Estonia, Champion national club). Show results, photos, puppies, photos pupies.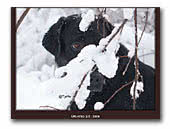 Tjotte's Labradors
Chocolate & black Labradors from the north of Sweden,welcome to visit the TopWinning labrador in Sweden Sv-08 SV-07 NV-06 SV-01 SwShCH NorwCH Tjottes Broken Arrow, up to date more than 45 BOB.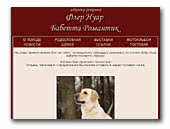 FLER NUAR BABETTA ROMANTIK
labrador retriever
Welcome to the personal web-site of our lovely dog! FLER NUAR BABETTA ROMANTIK - Russian Champion, 3xCC (exp. Maurice Givan, Susanna Wiles, Jim Nolan), 4xBOS, BOB, BIG-II HD-A/A ED-0/0. There are a lot of photos, show results.
We are waiting for perspective puppies!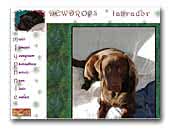 Dewdrops labrador
Small family kennel located in north Italy. We breed only with typical labrador. All dogs have hips, elbows an eye official certificates.


« Prev 1 2 3 4 5 6 7 8 9 10 11 12 13 14 15 16 17 18 19 20 21 22 23 24 25 26 27 28 29 30 Next »