Labrador Retriever
Retriever du Labrador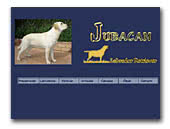 Jubacan labradors
We are a small kennel located in Spain.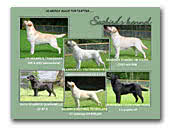 SEABIRDS Labradors
I have breed labradors sice 1981, all my labs have high merits from Show and field, I breed in all 3 colour, welcome to visit our homepage and take a look on my labs.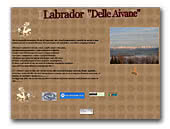 Delle Aivane Labrador
Black, Chocolate and Yellow Labradors in the north east of Italy. Welcome in our web site to see lot of photos !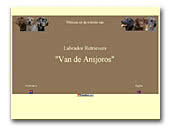 Van de Ansjoros
We are a small kennel located in the Netherlands. We breed on type and working skills where the health of our dogs is our main priority. Are dogs are all tested on HD/ED and PRA/Cat. We are members of the Dutch Labrador Club.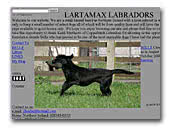 Lartamax Labradors
Small family run kennel based in Northern Ireland with working line labradors.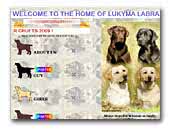 LUKYMA Labradors
We are a small hobbie breeder which means i keep my dogs as pets I DONOT have kennels! We have the added bonus that we show our labradors at open and championship show level and do very well. They all live in our family home.

Because i am a hobbie breeder i do spend equal time with my dogs and looking after the babies is hard but very rewarding. I make sure they are all healthy and cared for. I breed for tempremant as well as health & type and they all go to their new homes being FRIENDLY, CONFIDENT puppies.

All our dogs have permanent residence and are NOT rehomed later on in life. With 3 children and all our dogs living in the family home, life is very chaotic but full of fun here at LUKYMA. As you could imagine there is never a dull moment in our house. Our dogs are walked everyday and we are spoilt for choice here,where we can walk them wether it be up the heath land, forest or a swim in the sea at the beach.

Our babies are raised in the house with cats, children and other dogs. They are used to all household noises. My babies are raised with lots of love,care and devotion. Both parents are hip scored and have current clear eye certificates, and HAVE OUTSTANDING, KIND, GENTLE LOVING TEMPERAMENTS.

They leave here fully weaned, wormed every 2 weeks from birth, with 6 weeks free insurance,a puppy pack, 5 generation pedigree, Kennel Club papers. Also a lifetime of full guidance and back up from us.


« Prev 1 2 3 4 5 6 7 8 9 10 11 12 13 14 15 16 17 18 19 20 21 22 23 24 25 26 27 28 29 30 Next »