Newfoundland / Neufundländer / Terre-neuve

Canadian Beardog
Our kennel is located in Czech Republic. We have newfoundlands since 1998. Our goal is beautiful and healthy newfoundland with typical temperament. We are interested in breeding and shows.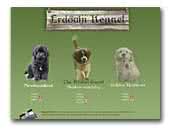 Erdőalji - Newfoundland,
Golden Retriever, Moscovskaya
We are proud that we are offering high quality breeders, have golden retriever, Newfoundland, Newfoundland, Moscow defender All dogs come from champion line.
Golden Retriever
Moscow Watchdoge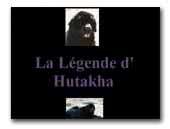 La Légende d'Hutakha
Elevage familial de Terre neuve LOF.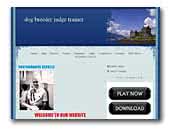 Nostradamos kennels
Breeder & Championship Show Judge.


Bull Terrier / Miniature Bull Terrier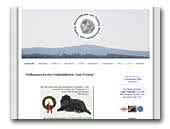 Neufundländer vom Trieberg
Neufundlaender-zucht, hobby, geschichte und  entwicklung der rasse, pflege, welpen-aufzucht, ausstellungen, ausstellungserfolge, champion-titel, begleitung der welpenkäufer, beratung bei aufzucht.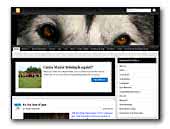 Brandelle Alaskan Malamutes
A small kennel in the UK that has both Newfoundland's & Alaskan Malamutes under the affix. Hopefully in the future to do our first breeding with the Malamutes so watch this space!
Alaskan Malamute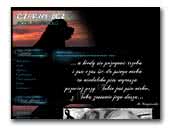 CZARNY BEZ Moje Słoneczko
Stud Dog
Czarny Bez Moje Słoneczko is the winner of numerous exhibitions, which resulted in the titles:

* Polish Champion
* Polish Junior Champion
* Best Male of Breed (The Winner)
* BOB - Best of Breed
* BOG III - Best in Group - Third place
* Best Young Dog 2008 - 3rd place
* Nomination for Crufts 2008

Czarny Bez Moje Słoneczko is a working dog in Water Rescue Dogs Section.
His commitment to work made it possible to get the titles:

* Polish Champion of Water Rescue Dogs and Working in Water
* Polish ViceChampion of Water Rescue Dogs and Working in Water
* Completion of training with distinction and passed the kynotherapeutic dog exam
* Certifications of Pulling Work – all of them finished on the 1st place in his class
* Jumping from Helicopter :)

In rating of kennel judges from different countries he is:

...dog excellent in type and condition...
...very impressive, elegant, anatomically correct...
...correct posture with a beautiful topline...
...elegant dog with a strong male head...
...magnificent quality of coat...
...excellent coat...
...excellent dog in excellent condition...
...head typical for the breed...
... a strong, well-balanced, masculine head ...
...very nice head, small well-set ears...
...excellent bent...

Welcome breeding bitches to the mating.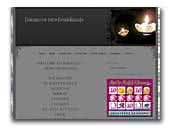 Baranova Newfoundlands
We are a small kennel with over 30 years experience breeding Newfoundlands for beauty and water work ability.All our dogs are fully health checked for Cistinurea, echo dopplered, elbow and hip exrayed. We have had much success both in the show ring and water trialing.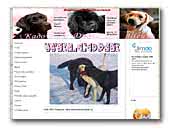 Kadoris
Newfoundland and Labrador Retriver
Welcome to a site Kadoris!

We are engaged in breed Newfoundland and a labrador retriever. Here you will find a lot of information on dogs, and also on zootherapy in Belarus.
Labrador Retriever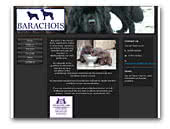 BARACHOIS
Newfoundlands and Irish Wolfhounds
Licenced Breeders of Newfoundlands and Irish Wolfhounds. Black and Brown Newfoundlands, all health screened and superb examples of the breed. All fabulous temperaments in loving country home with 14 acres.
Irish Wolfhound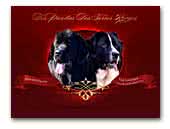 Les Pandas Des Terres Rouges
Elevage de Landseer et de Terre neuve. Selection sur le caractère, les aptitudes au travail et sur la beauté. N'hésitez à nous contactez pour en savoir plus.
Landseer
.

.