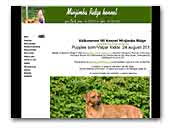 Minjimba Ridge kennel
Minjimba Ridge kennel situated outside Gothenburg, Sweden. Breeding for the future using sound and healhty speciments only. Puppies born and live in home environment and are used to children, other dogs, horses & chickens.

Ridgebacks puppies available for family, show,obidience, hunting & breeding. In cooperation with Maendeleo kennel - 30 year of experience with RR.
Rhodesian Ridgeback