Pug / Carlin / Mops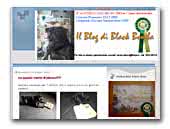 Allevamento del Bomba
Un piccolo allevamento di Carlini da esposizione e compagnia. Risultati in campionati nazionali, internazionali e al World Dog Show. Selezione per carattere, salute e tipicita.

We are a small successful show kennel of Pug dog. Having national and international champions and great result in the World Dog Show. We Breed for Temprament, Health, Type.



Heidelind's
We have a small, familial kennel in Estonia. We breed high quality Pugs and Rough Collies. Our dogs come from excellent backgrounds. We enjoy showing and breeding. All our dogs live with us as family members.

We only breed on healthy animals for show conformation, although our matting priority is definitely health and balanced personality for which we are very proud! We are a FCI approved kennel. I have been 4 x Estonian Best Junior Handler and now I am F.C.I judge. Welcome to visit our site.
Collie Rough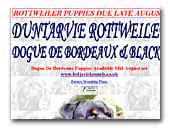 Duntarvie Rottweilers,
Dogue De Bordeaux and Black Pugs
A family show kennel, breeding for true type, temperament and health. All our animals are adored members of our family and as such, although living in kennels, enjoy the freedom our home, with long periods of free running, play and constant interaction all our dogs are happy, healthy and of outstanding character.
Rottweiler
Dogue de Bordeaux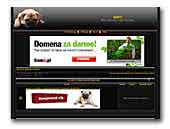 mopsy.phorum.pl
Forum miłośników psów rasy mops. Ciekawe tematy, wiele informacji, porady, instrukcje. Podziel się doświadczeniem lub skorzystaj z doświadczenia innych. Dołącz do nas! Czekamy!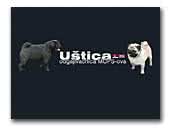 Uštica Mops Kennel
A couple of words about us

We started 23 years ago. Our first dogs were German Shepherds, then Great Danes, French Bulldogs and Mops. All of these dogs have returned to us provided them love and attention, but there is something about Mops that cannot be compared with anything.

It is a lively dog, loving to his landlord and his household. Tireless in the game, full of joy which shows at any time. Therefore, we have registered dog kennel "Uštica" and dedicated to the cultivation of this race. We acquired two quality females and males who have achieved remarkable results in exhibitions. From these combinations we raised two young females who have also achieved notable results.

Today we have several males and a large number of females, and we strive to get some fresh blood from the world famous kennels. Our basic orientation in breeding mops is the health and quality of dogs. We work on that from the very beginning!

Our mops kennel is located in Lazarevac, Serbia.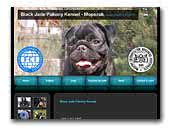 Black Jade Pakony Kennel
Show quality, well socialized pugs. Black pugs.



Pulcherrimus Ga-Bo
Pulcherrimus Ga-Bo kennel is located in Kiev, Ukraine. We occasionally breed for quality and not for quantity. Our aim is to breed healthy dogs with good movements and excellent exterior.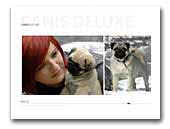 Canis Deluxe - Pug Kennel
We are a small kennel of quality Pugs.



Zlatá nymfa FCI
Chováme černé a béžové mopse, máme malý, domácí chov, zaměřený především na zdraví a kvalitu odpovídající standardu plemene.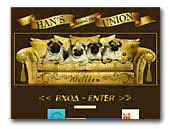 HAN'S UNION - kennel pug
Professional kennel Pug Champions.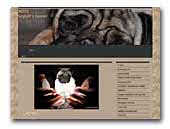 SaglaN's
Kennel "SAGLAN'S, breed pug, registered in RKF / FCI. Breeding, participation in exhibitions, grooming, handling, puppies show, pet and breeding class.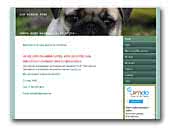 Los Ninios
Los Ninios is a small kennel located in Moscow, Russia. I own pugs and boxers. Welcome to my pages!
German Boxer
&laquo Prev 1 2 3 4 5 6 7 8 9 10 11 12 13 14 Next »