Rottweiler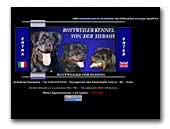 Rottweiler Kennel von der Herash
Rottweiler Kennel in ITALY - Much years of experience with working Rottweilers and with Champion bloodline in Kennel!!

Come and visit us!
We have very beatiful puppies in sale.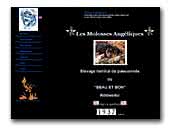 Les Molosses Angéliques
Puppy to reserve - Father is a son of Bronko Od Dragicevic and a grand son of Ringo Crni Lotos(brother's Ramzes Crni Lotos)

Mother is a Grand son of Osco Von Der Ritter Kronen and Hook de la Piéce de l'Assaut. She have very good result in show.



VON DER DEUTSCHEN BRUCKE
Top Rottweiler kennel with only the best German bloodlines!!! Big bone, strong heads, howesome character are the main carachteristics of our Rottweilers.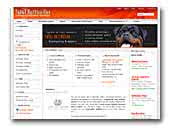 Total Rottweiler
Total Rottweiler - connecting rottweiler breeders. Best looking Rottweiler gallery, Rottweiler yellow pages and much more.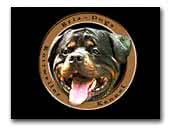 BRIA-DOGS
Top Rottweiler Breeding Station - Slovakia.
Puppy to reserve. Father: HENRY VON DER HASSBERGHOHEN - SON AKINO VON DER LAUTEBRUCKE; Mother: BEAUTY GERO-DOGS - DAUGHTER BRONKO OD DRAGIČEVIČA.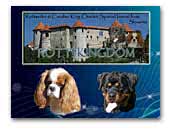 Rotti Kingdom
Rottweiler kennel from Slovenia. We breed show quality Rottweilers. Some of our dogs: CLARUSCHA VOM HAUSE EDELSTEIN, TRIXI EARL ANTONIUS, HOLLY VOM KALACBERG, ANJA VOM BENI, BELLA ROTTI KINGDOM.

We are breeders of Cavalier King Charles Spaniels from Slovenia. Puppy inquires welcome.
Cavalier King Charles Spaniel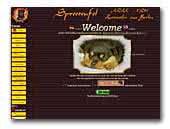 Spreeteufel ADRK Kennel
We live FOR our Rottweiler NOT FROM our Rottweiler. Spreeteufel was Klub Youthsieger, Europasieger, Bundessieger and gekoert. Visit our homepage and you will find very good old german bloodlines without Aki v.d. Peeler Hütte. Photos and information.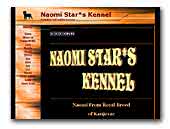 Naomi Star*s Kennel
FCI registred top quality dogs. We are a Bosnian kennel breeding top show and work lines. All of our dogs have the perfect Rottweilers tempermant as well as excellent confimation. Information and pictures of our dogs, show results. All dogs for sale.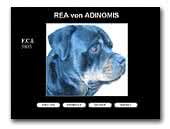 REA VON ADINOMIS
Rottweiler kennel REA VON ADINOMIS Kragujevac Serbia. With our name, we stand for the quality and the pure blood of our dogs, which have always been among the leading ones in the country.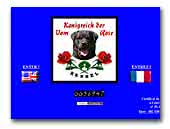 Vom Konigreich Der Rose Kennel
We have real passion for Rottweilers, and so we try to do the best using only some of the best bloodlines in the world, like GONZZO EARL ANTONIUS and his brother GRAF, MAMBO VON DER CROSSENER RANCH, AKINO VON DER LAUTERBRUCK, FILOU VOM RAUBERWEG, YOY VON DER CROSSENER RANCH, DACK FLASHROUSE, ARKO EARL ANTONIUS, RICK VON BURGTHANN, CRNI LOTOS Blood line, and many others ... Come to see us !