BRIAVA
Rottweiler from Slovakia. Stud dog, shows, puppies, more informations, videos and photos about our dogs.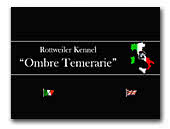 OMBRETEMERARIE Rottweiler Kennel
L'Allevamento Ombre Temerarie viene fondato nella metàdegli anni novanta per volere di Massimo Gavasso, Gianna e Vittoria. L'amore per questa razza li spinge ad intraprendere un' esperienza di lavoro puramente amatoriale che, dopo anni di sacrifici, riceve riconoscimenti anche nei ring piu' blasonati d' Europa.

Il soggetto che meglio ha racchiuso in questi anni il "pensiero Ombretemerarie" è stato, senza alcun dubbio, Endo cane che racchiudeva in sé quel tipo di caratteristiche morfologico/caratteriali che han fatto crescere e conoscere l' Allevamento.

Negli ultimi anni si è creato un vero e proprio Team, un gruppo di lavoro con compiti diversi che porta avanti un obiettivo semplice ma quantomai efficace: l'ottenere soggetti con doti caratteriali equilibrate e morfologicamente corrette.

L'Allevamento Ombre Temerarie è composto dalla figura di Massimo accompagnata da: Andrea, Guglielmo e Paolo. Ciò che contraddistingue ormai da anni il tipo di lavoro che viene svolto, è un'accurata selezione dei soggetti da impiegare, a vantaggio della qualita' piu' che della quantità. Ad oggi si può affermare che l'Allevamento si è ritagliato, all' interno del panorama cinofilo nazionale, un posto di tutto rispetto.


The Ombre Temerarie Kennels was founded in the middle of the 1990s thanks to Massimo Gavasso, Gianna and Vittoria. Their love for this dog breed brought them to start this experience as non-professionals but now, after many sacrifices, their activity has been also rewarded in the most titled European rings.

In these last years the subject that best has represented the "Ombre Temerarie philosophy" is Endo a dog that possesses that kind of character/morphological features that have made the Kennels grow and become known.

Recently a real Team has been created, a working group with different tasks that carry out a simple but effective aim: to obtain subjects with balanced and morphologically correct character features.
The Ombre Temerarie Kennels is formed by Massimo together with Andrea, Guglielmo and Paolo. In these last years what has been characterizing their job it is a careful selection of the subjects to be used, to the advantage of quality rather than to quantity.

Today we can state that the Kennels has earned a respectful place within the international cynophilist community.