Rottweiler

Рус Риттерхунд
Приветствуем вас на сайте питомника "Рус Риттерхунд"!!! Наш питомник занимаеться породами Ротвейлер и Лабрадор.
Labrador Retriever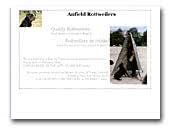 Anfield Rottweilers
Welcome to Anfield rottweilers. Our mission is to breed high quality, healthy puppies with correct conformation and stable temperaments with the capacity to excel in both the show ring and in working competitions, this is achieved through the careful study of bloodlines alongside a rigurous selection process.

We currently have a litter by Unox vom Hause Anin (HD-Frei ED-Frei SchH/VPG 3 BH Oldenburg-Jugendsieger 2007) and Pretty Sonne de Anfield (AVEPA B RPT BH RPT Prep. RCII)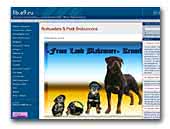 From Land Blakemore
From Land Blakemore Kennel has been breeding Rottweilers since 2005. It's a new kennel. But for now in my kennel were already born Junior Champions of Russia, Champions of Russia, Champion of Russian Kynological Federation, Winner of National Russian Rottweiler Club, Prizewinner of KS ADRK'06.

My purpose is breeding massive, strong Rottweilers with beautiful heads and dark eyes, with correct anatomy and good strong motions. And I have a new breed in the kennel now. I started to breed Petit Brabancons since 2008. Welcome to my web-site!
Small Brabant Griffon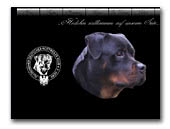 Vom Natkai Rottweiler Kennel
Rottweiler Breeder family from Hungary.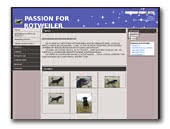 ALEX Rottweiler Kennel
The Best of Romania.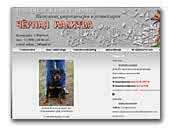 Tchernaja Kalitva
Professional breeding of zwergpinschers and rottweilers.
Miniature Pinscher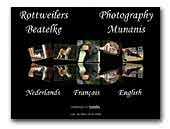 Munanis & Beatelke
Rottweilers - Photography - Design.


Dog Web Design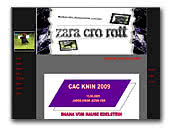 zara cro rott
Rottweiler kenel from Croatia. Shana vom hause edelstein, riko schwarz rott garde.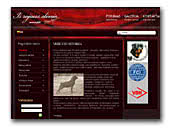 ROJAUS SLĖNYJE Rottweiler
Rottweiler kennel Anno 1986. Only the best German blood Lines.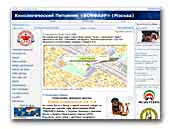 BONFIRE Kennel IKU
Rottweilers and Dachshunds.


Dachshund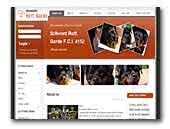 schwarz-rott-garde.com
This is the official website of "SCHWARZ ROTT GARDE", Rottweiler kennel.




Black Rotthmans
Hello, dear rottweiler's friends and welcome to our online home. "Black Rotthmans" was born in 2000 as a result of our passion for this greatest breed - Rottweiler.

We are members of A.Ch.R(Romanian Kennel Klub), RCR(Rottweiler Club Romania), ADRK (Allgemeiner Deutscher Rottweiler Klub).

We hope that you will enjoy your surf and you will appreciate our work and results,
Ioana & Calin Petrisor.
.

.