Rottweiler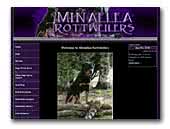 Minaelea Rottweilers
Rottweilers bred for Conformation, Temperament and Working Ability. Based in Yorkshire England we are UK Kennel Club Accredited Breeders.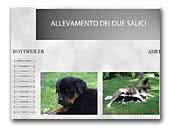 Dei Due salici Akitas/Rottweiler
We are a small family kennel placed in center Italy. Usually we have few pups/year, because breeding must to be ah hobby and not a work. Please visit our website: we'll be glad for this.
American Akita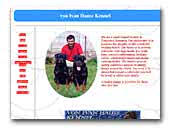 von Ivan Hause Kennel
Only german blood lines.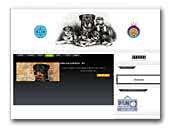 VOM DAMIROTT kennel rottweiler
Dogs in my kennel - Males:
ATHOS BODYGUARD FORCE born 19.08.2004
(FARA VALCOR ROTT & BRONCO VOM NATKAI)
ENZO DELLE ABBADESSE born 04.05.2008
(VICO VOM KRESSBACH & PRETTY WOMAN DEL DARDO NERO)
GIOVE DELLE ABBADESSE born 12.09.2008
(VICO VOM KRESSBACH & LUCIE VON DER SCHERAU)

Females:
FARA VALCOR ROTT RO born 01.01.2003
(ENOCH-MIRKO THE CRUEL & BONY THE CRUEL)
CLEO DELLE ABBADESSE born 02.09.2007
(MAMBO VON DER CROSSENER RANCH & NENA VON DER BLEICHSTRASSE)
DIDA DELLE ABBADESSE born 16.10.2007
(MORRO VON DER SCHERAU & COLIN VOM JAGERBRUNNL)

Young Female:
HANNY born 22.06.2009
(ATHOS BODYGUARD FORCE & CLEO DELLE ABBADESSE)

Thank you for visit.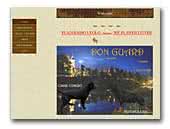 Don Guard kennel
We are kennel from Croatia and we have quality dogs Cane Corso and Rotweiller.
Cane Corso Italiano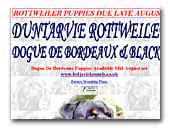 Duntarvie Rottweilers,
Dogue De Bordeaux and Black Pugs
A family show kennel, breeding for true type, temperament and health. All our animals are adored members of our family and as such, although living in kennels, enjoy the freedom our home, with long periods of free running, play and constant interaction all our dogs are happy, healthy and of outstanding character.
Dogue de Bordeaux
Pug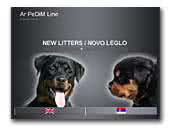 AR-PEDIM-LINE
Excellent puppies of all years for everybody.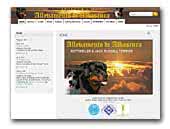 Allevamento DI ALBASCURA
Rottweiler & Jack Russell Terrier
Allevamento professionale (ric. E.N.C.I. - F.C.I.)Rottweiler & Jack Russell Terrier (pelo liscio, broken, ruvido)in possesso dei requisiti di legge (autorizzazione sanitaria - partita IVA).

Cuccioli delle migliori linee genealogiche, selezionati per morfologia e carattere. Addestramento - Educazione Cinofila (tutte le razze e fantasia) con addestratore iscritto Albo Addestratori Cinofili dell' E.N.C.I.

Premio "Mercurio d'Oro" alla Civiltà del Lavoro Città di Alessandria.
Jack Russell Terrier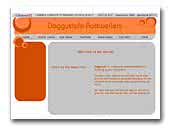 Doggystyle
Doggystyle is a Romanian kennel dedicated to breeding quality rottweilers. Excellent lines, dedication and affection is what give the best results in rottweiler breeding. We do not work on an industrual scale, quality being our motto. We lately started breeding Giant Schnauzer Slat and Pepper and soon to come, Yorkshire Terriers.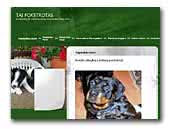 TAI FOKSTROTAS
This is small Fox terriers & Rottweilers kennel located in Lithuania. The dogs are our companions and family members.
Fox Terrier (Smooth)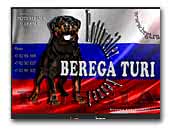 Berega Turi Rottweiler kennel
Top rottweilers kennel of Russia.


« Prev 1 2 3 4 5 6 7 8 9 10 11 Next »