Rottweiler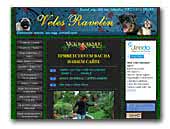 VELES RAVELIN Kennel UKU-FCI
Welcome to website of  kennel  VELES RAVELIN – pug, shih tzu, rottweiler. On pages of our site you can get acquainted with our pets, look at their photo, a pedigrees, puppies.

Добро пожаловать на сайт питомника  "VELES RAVELIN" – мопс, ши-тцу, ротвейлер.  На страницах нашего сайта Вы можете познакомиться с нашими питомцами, посмотреть их фото, родословную, щенков.
Pug
Shih Tzu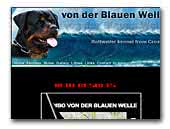 Von Der Blauen Welle
Special Rottweiler Show Split CRO - V1 CAC BOB Absolute Winner 2010, CRO - Klubsiegerin'08, F.C.I Europa Sieger - V2, H - Klubsieger '08 - V1, Ö - Klubsiegerin '09, Slovenia Klubsieger 09 - V1, Special Rottweiler Show Split 09 - V1, CAC, BOB, CRO - Klubsiegerin V1 2010.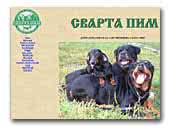 Svarta PIM
Kennel Swart PIM - Basset Hound, Rottweiler, Dachshund.

We are happy to invite you to visit our web page and we are happy to represent our lovely dogs. We have a forum. On the pages of the forum a lot of interesting information - articles, reports from exhibitions, photos and video.

Our Kennel is located in St. Petersburg, Russia.
Yours faithfully,
Irina Mukhina
Basset Hound
Dachshund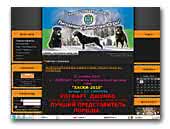 Dinastia Ugri
Welcome to "Dinastia Ugri" rottweiler kennel site. We hope you will enjoy by the dogs we breed.



ANGAROS
My name is Magda and together with my husband we run a completely family hobby kennel of Rottweiler. This breed has always lived with us and we can't even imagine our life without it. Rottweiler was the reason why we_ve left the city life and moved to the country side. Breeding of Rottweiler is a true passion for us and therefore our activities are also dedicated to improve the Rottweiler breed as a whole.

The goal we strive for and we focus on the most is to make our kennel as best as it could be. It's the consistently high quality of Rottweiler puppies that we've produced in "ANGAROS" kennel that matters for us, not simply the number of them. That's why we choose studs for our bitches very selectively. It's important for us that puppies leaving our kennel are not only of extraordinary beauty and sound bodies, but also great minds.

Our Rottweilers have always been and will always be full members of our family.

If you're interested puppy "ANGAROS" Please contact e-mail.

Our puppies are raised at home and well socialized from the very beginning in order to provide them with solid basis for their further development.
All combinations are very carefully selected after many months of analysis. We select stud dogs from absolute European top of show and working rottweilers.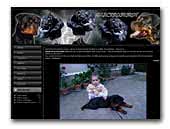 BLACKROSESROT Kennel
Hello friends and dog lovers, we are a young kennel located in central Transylvania - Romania.

Blackrosesrot Kennel waiting for you to get acquainted with "black roses". These wonderful dogs are as well known and loved by everyone, like roses.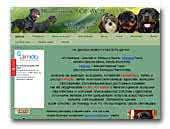 TEREN Kennel FCI
We have puppies of breed: Zwergschnauzer Black, Pepper salt and white, Deutscher schaferhund, Rottweiler, Shih tzu. Our dogs have nice titles at dog-show. We can deliver our puppy in any place if you need it.
Miniature Schnauzer
German Shepherd Dog
Shih Tzu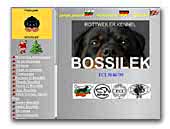 Bossilek - Rottweiler kennel
The "Bossilek" Specialized Kennel was established in 1988 by importing the first two dogs from this breed from the former Czechoslovakia. Our pets are excellent show dogs, and bear the now required breed standard traits and behaviour for the rottweiler. They have a stable type of nervous system/temperament, they have well-developed protection skills and working abilities, too.

They are amiable and confident, and basically suitable for a companion to our family and attachment to other representatives of the animal world, showing all this in passing the exams for socializing and breeding appropriateness. We usually breed one bitch per year and select the future owners of our litters of puppies.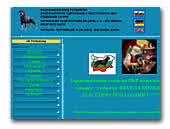 NATIONAL ROTTWEILER CLUB (NRC) - BULGARIA, SOFIA
Our club has been established in January 1992 and is named National Club Rottweiler – NKR, the Republic of Bulgaria, seat – the city of Sofia.

The club is a juridical unit according the laws in the Republic of Bulgaria. It is member of BRFC, FCI and IFR.Membership of the club is prestige and responsibility and by this reasons the requirements to the applicants for membership are higher.

For the period of existence of NKR in the Breeding Book have been entered 1100 Rottweilers.

Rottweiler is already well known in Bulgaria owing to the activity of NKR. The club aims some more popularity, spreading and clear race breeding of healthy Rottweilers.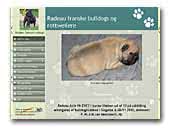 Radeau French Bulldogs and Rottweilers
Serios breeding of dogs for exhibition, family and work. We use only healthy dogs in our breeding program.
French Bulldog
« Prev 1 2 3 4 5 6 7 8 9 10 11 Next »