Rottweiler

DEVOTED STAR
Добро пожаловать к нам на сайт.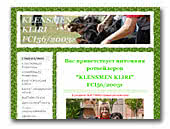 Kennel Klensmen Kliri
Питомник занимается разведением собак породы ротвейлер и бассет-хаунд.На сайте Вы можете познакомиться с нашими питомцами и их достижениями на выставках,а так же узнать о наших планах на будущее.
Basset Hound
Cane Corso Italiano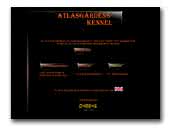 Atlasgårdens Kennel
Uppfödning av Rottweiler & Staffordshire Bullterrier i hemmiljö.
Staffordshire Bull Terrier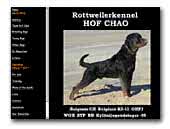 Hof Chao rottweilers
Rottweilerkennel Hof Chao is located in Roeselare Belgium. We breed with very strictly selected dogs, maximum 1-2 litters/year. Our goal is to breed healty and stabil dogs, suitable for shows and working.

Our K1-litter is born 14/10/2011
8 males & 3 females
sire: VPG3 Körung ZTP BH AD ODIN VON BICKESHEIM II (HD: +/- ED: Free)
dame: BH Multi-V1 CAC CACIB HEXE HOF CHAO (HD: Free ED: Free).

Our K2-litter is born 19/10/2011
4 females & 3 males
sire: Belgium CH GHP1 WGH ZTP BH GROMM HOF CHAO (HD: Free ED: Free)
dame: BH WANYA VON BICKESHEIM (HD: Free ED: Free)

We are the proud breeders and owners of stud male Belgium CH GHP1 WGH ZTP BH GROMM HOF CHAO (HD: Free ED: Free).

More info of us and of Hof Chao rottweilers can be found on our website!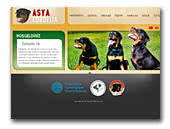 Asya Cordelia
Türkiye de FCI onaylı, yerli kaliteyi üst düzeylere çekecek üretimler yapmayı hedefledim her zaman. İlk doğum için köpeğimi yurtdışına götürüp çiftleştirdim. Detaylı bilgi için ...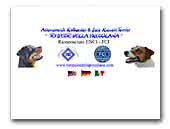 Tempeste della Presolana
Rottweiler & Jack Russell Terrier
Allevamento Riconosciuto ENCI - FCI dispone di cuccioli delle migliori linee di sangue, esenti da patologie ereditarie.
Jack Russell Terrier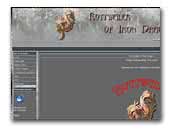 of Iron Dragon Rottweiler
Wir sind eine private Hobbyzuchtstätte für die Rasse Rottweiler.

Unser Ziel ist es gesunde, wesensfeste und familientaugliche  Rottweiler zu züchten, die den FCI Rassestandard des Rottweilers würdig vertreten!

Besonders großen Wert legen wir bei der Aufzucht der von uns gezüchteten Welpen so wie deren Sozialisierung, Prägung auf andere Tiere, Kinder und  unserer Umwelt.

Der Rottweiler der Moderne ist in den meisten Fällen ein Familien Hund, der mit Kindern, älteren Menschen so wie auch anderen Haustieren leben soll.

Daher ist es unser Bestreben auch einen solchen Familien Hund zu züchten!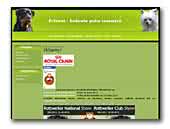 Erdenet Rottweilers
We invite you to visit our website. Erdenet Rottweiler Kennel is registered in FCI. Rottweilers are our passion and great love and each one is a full member of our family. We have stud dog Polish Champion BORG Drink Bar - grandson of MAMO v.d.Crossener Ranch and young promising female SELENA Marstal. In our home along with Rottweilers live a lovely little Chinese Crested.
Chinese Crested Dog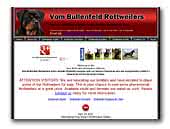 Vom Bullenfed Rottweilers
Vom Bullenfed Rottweilers is a AKC/ADRK/FCI registered German Rottweiler breeder with 30 + years experience breeding top German Bloodlines in America as well as Serbia.

We produce champion pedigreed Rottweilers extremely suited for show/work and loving family homes. Please visit our website for more information on us and our German Rottweilers.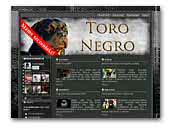 Toro Negro Rottweilers
Home Rottweiler kennel. Pedigree puppies the best parents. Our female from the beginning are brought up in a relaxed homely atmosphere. Regarded by us as family members and so it feels. A lot of attention to the training of and the socialization of children. We owe all the achievements of hard and persistent work.

With a view puppies we moved from apartment to the countryside, away from the hustle and bustle. Housing conditions have adapted to the needs of our children (including his own room). All puppies coming from our kennel have a metric of birth issued by the Kennel Club in Poland, a set of vaccinations appropriate to their age, and full service veterinary. Each puppy is our unique and most importantly, why we primarily on providing them with good conditions at the new owners.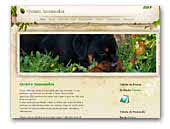 Quinta Anunnakis
Portuguese Kennel of Retriever Labrador, English Cocker Spaniel and Rottweiler.
Labrador Retriever
English Cocker Spaniel
« Prev 1 2 3 4 5 6 7 8 9 10 11 Next »