Rottweiler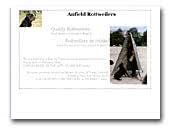 Anfield Rottweilers
Welcome to Anfield rottweilers. Our mission is to breed high quality, healthy puppies with correct conformation and stable temperaments with the capacity to excel in both the show ring and in working competitions, this is achieved through the careful study of bloodlines alongside a rigurous selection process.

We currently have a litter by Unox vom Hause Anin (HD-Frei ED-Frei SchH/VPG 3 BH Oldenburg-Jugendsieger 2007) and Pretty Sonne de Anfield (AVEPA B RPT BH RPT Prep. RCII)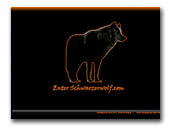 Der Reich Vom Schwarzen Wolf
Rottweiler is a small kennel, we are a family devoted to the breeding of selected this beautiful breed, The rottweiler. We plan our breeding with dogs, with the least amount of mistakes and problems of genetic transmission as eyes clear, hip problems, teeth, take care not detail such mistakes in our dogs.

In the same way we look the character and temperament of our dogs, keeping a balance between disposal and attitude to work, and the nobility with other persons and dogs.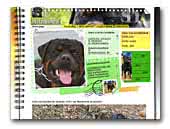 JODA VAN HAYSHERAK
Joda van Haysherak new Italian Champion of Beauty. Visit the new official website: pedigree, genealogy, results, contacts for stud all on the website.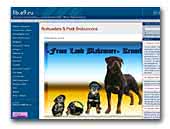 From Land Blakemore
From Land Blakemore Kennel has been breeding Rottweilers since 2005. It's a new kennel. But for now in my kennel were already born Junior Champions of Russia, Champions of Russia, Champion of Russian Kynological Federation, Winner of National Russian Rottweiler Club, Prizewinner of KS ADRK'06.

My purpose is breeding massive, strong Rottweilers with beautiful heads and dark eyes, with correct anatomy and good strong motions. And I have a new breed in the kennel now. I started to breed Petit Brabancons since 2008. Welcome to my web-site!
Small Brabant Griffon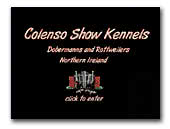 Colenso Dobermanns & Rottweilers
A showcase for our Rottweilers & Dobermann.
Dobermann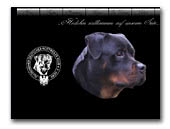 Vom Natkai Rottweiler Kennel
Rottweiler Breeder family from Hungary.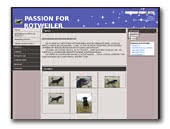 ALEX Rottweiler Kennel
The Best of Romania.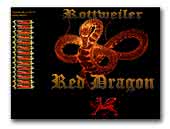 of the Red Dragon Rottweiler
Top Rottweiler Breeding.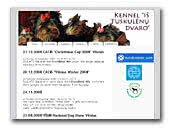 is Tuskulenu dvaro
Welcome to our Yorkshire Terrier & Rottweiler kennel!
Yorkshire Terrier