Samoiedskaia Sabaka / Samoyed
Samoyčde / Samojede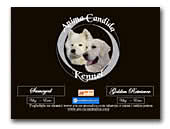 Anima Candida Kennel
Samoyeds and Golden Retrievers from Croatia.
Golden Retriever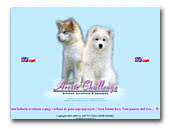 ARCTIC CHALLENGE
Our dogs are our pride, hobby, pride and happines!
Alaskan Malamute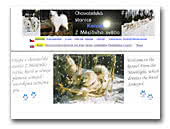 kennel From Moonlight
We breed quality Samoyeds in Czech republic for show and working and as family dogs.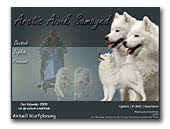 Arctic Aivik
We have a small, familian kennel in Switzerland. We breed high quality Samoyeds for show,and working and ofcourse as family dogs. All our dogs live with us as family members.

We only breed on helthy animals whith clear eyes and hips A ore B and we also are follow the Swiss and FCI Rules and recommendations fore breeding. Welcome to visit our site.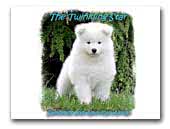 The Twinkling Star
We are a small kennel in Flanders (Belgium) Usually we breed a litter once a year. All our dogs are hips and eyes checked, DNA tested and get a pedigree from St. Hubertus / FCI (our national kennelclub).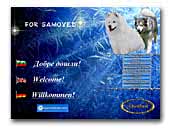 Lavinja Alpi - Alaskan Malamute
and Samoyed kennel
The breeding farm LAVINJA ALPI- BULGARIA has existed since 2004 and is owned by Irena Ljubenova and Ivaylo Teodosiev. The breeding farm is registered in the FCI, БРФК and is a member of "Severny kucheta" /"Northen dogs"/ cynology club.

We have three dogs - two Samoyeds - CH BG Rino, Multi CH Bisa and an Alaska Malamut - Nanook Spirit Hocus Pocus - Kiara. Our dogs and their puppies are home - bred, as members of the family. We participate in dog shows and we have successes not only in Bulgaria, but abroad too. Our biggest joy is to see the heirs of our dogs on the ring and we are convinced that each one who has touched the cynology has remained its fan forever.
Alaskan Malamute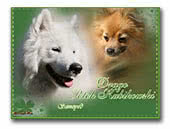 Drago Potok Kubikowski
Drago Potok Kubikowski zaprasza na swoja stronę internetową.