Samoiedskaia Sabaka / Samoyed
Samoyčde / Samojede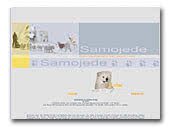 samojede-schweiz.ch
On this web page, you find all information about the samoyeds.

Auf dieser Seite finden Sie alle Informationen über die Rasse Samojede.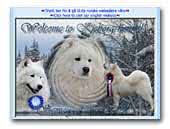 Kjeborg kennel
We are a small Samoyed kennel in Sweden. All our dogs live with us as family members. We breed Samoyeds for show, work and family dogs. We only breed on helthy animals whith clear eyes and hips A ore B. We follow the rules and recommendations fore breeding of Norwegian and Swedich Samoyed club.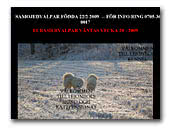 Lejonbols kennel
Breeding of Eurasier, Samoyed and Leonberger. Visit our home page and see all photos och our beautiful dogs. Breedingdogs are free in hips, elbows, patella and eyes. Good mentalitet are very important for us. We are located in the south of Sweden. Welcome.
Eurasier
Leonberger

Angel and Barcelona
happy samoyed from Ventspils
This homepage is made for our samoyed family - Barcelona, Angel and their sweet puppies, and also for all actual samoyed friends and friends to-be.

Barcelona is a Kenventaki kennel samoyed, born 04.11.2005., in Kekava, Riga region. Barcelona has 2 sisters and 4 brothers.

Angel, full name is Smiling Snowball Santa Elf, born 01.05.2008., Estonia, Haapsalu. Angel has 4 sisters, so the only boy in his family.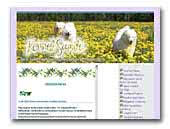 SAMITE Kennel
SAMITE is a small kennel,which is breeding samoyed dogs in the Capital of Estonia, Tallinn. There are 3 bitches in this kennel. In breeding we use only healthy dogs who have got exellent healt results. Breeding purposes are to get beautiful,breed standard applying and healthy samoyeds.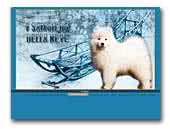 Baita della Neve Kennel
Breeding for the selection of Samoiedo rinosciuto by ENCI - FCI sells Samoiedo high pedigree, complete with pedigree, vaccinations, microchip, parents free of dysplasia and DNA deposited.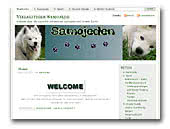 Vielseitiger Samojede
Informationsseite zum Samojeden. Wir möchten die Vielseitigkeit des Samojeden erhalten. Zeitweise Welpen ab zu geben aus Schönheits/Leistungszucht mit vorzüglichen Elterntieren.

Seriöse FCI/VDH/DCNH Familienaufzucht seit 1991. Keine Zwingerhaltung.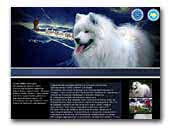 Samoyeds of Ukraine
Contemporary Samoyeds are direct descendants of the dogs domesticated by nomadic Samoyed tribes.

These white fluffy polar dogs imported by Europeans from tundra became participants of the heroic quests for the North and South Poles.

The breed standard officially points out that:
- "The first dog to set paw on the South Pole was the Samoyed named Etan, the lead dog of Roald Amundsen's team in 1911".
- "When he saw Antarctic Buck, Jack London exclaimed: 'This is the finest dog in the world!!!'"

This site features photographs of contemporary Sammies and dogs of the past; here, you will see the best Ukrainian Samoyeds and obtain detailed information on the breed.

We are always happy to welcome friends, aficionados of the breed, and all prospective Samoyed owners.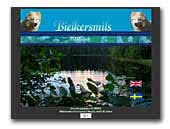 Bielkersmils kennel
We are a kennel in Värmland nearby the big lake Vänern in Sweden. We like to go sledding with our dogs both for fun and for competition. We also like to go for dog shows. As we use our dogs as working dogs it's very important that they are healhty and have a sound temperament.

In our small breeding we seek to breed dogs who can function as familydogs as well as workingdogs. Welcome to our website to read more about us and to get to know our samoyeds.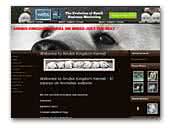 Anubis Kingdom Kennel
We don't care for quantity but for quality! Our dogs and puppies grown up and live as part of our family, and we propel socialize our dogs and puppies.
Japanese Spitz
German Shepherd Dog
Belgian Shepherd Dog