Shih Tzu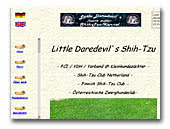 Little Daredevil's Shih-Tzu
Small Breed in VDH / FCI since 1997, my Kennel are based on english and skandinavian lineages such as Greenmoss, Keytor and Santosha. That is why I think it important that the dogs are pure bred and kept that way!

My Shih-Tzus just only a hobby for me, that is reason why only one litter in year ... If you want more information about me and my dogs please kontact me!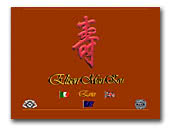 EL'ISON MAN KOU
Rough and smooth chow kennel. Breeding shih-tzu and pug too.
Chow Chow
Pug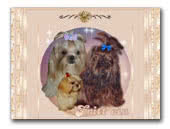 vom Paradiesgarten Shih Tzu
Wir haben wunderschöne Shih Tzu Wuschel mit viel Fell am Körper und Flausen im Kopf. In verschiedenen Farben/Zeichnungen die Welpen sind bei Abgabe mehrfach entwurmt, Tierärztlich untersucht, 5-Fach geimpft und  erhalten eine Ahnentafel des IGH.

Unsere Welpen wachsen in der Familie auf und sind daher, sehr Lieb, Sozial und Kinderfreundlich, sind an andere Hunde und Katzen gewöhnt. Besichtigung ist nach Absprache jederzeit möglich. Sie haben auch die Auswahlmöglichkeit, wenn wir mehrere Welpen haben. Wir sind eine vom Amtstierarzt kontrollierte und genehmigte Zuchtstätte.

Haben Sie Fragen zu unserer bezaubernden Rasselbande können Sie gern anrufen, Bilder der kleinen finden Sie auf unserer Homepage. (Großraum Gießen 35390)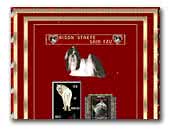 Bison Staete Shih Tzu
We are a Small Shih-Tzu Kennel in The Netherlands. All our Shih Tzu's are from good bloodlines, they are living with us in our home. We love to show our Shih-Tzu's and we love them a lot ...

From time to time we have puppy's availeble from excellent combinations. Just look at our website of there are at the moment!!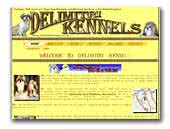 DELIMITRI BREEDING KENNELS
Delimitri Kennels are famous around the world for it's ethos and standard of breeding high quality puppies, for high quality people and the homes our dogs go to must be high profile and guaranteed of serious loving homes. Anyone may contact us reagarding our adorable Shih Tzus and Pugs.

If you are considering a larger dog and have thought of having some kind of breed with a difference call us also to discuss your family requirement.The sevice we aim to provide is healthy pups with strong bone structure and the temperment of a loving nature to be you life long companion.
Pug


Ad Acte shih tzu
Small home based Shih Tzu Kennel from Poland. We actively show our dogs at Dog Shows. Occasionally we have puppies for sale.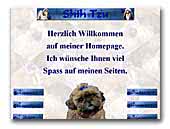 Shih Tzu from little Paradise
Kleine liebevolle Hobbyzucht. Wir haben max. 2 Würfe in den Farben gold-weiss und gold/Maske im Jahr. Bei uns wachsen die Welpen in der Familie auf und sind bei der Abgabe bestens sozialisiert. Wir züchten aussliesslich Rassehunde mit Papieren. Massenzucht und Käfighaltung lehnen wir strikt ab.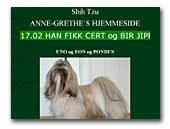 Anne Grethe's hjemmeside
Shih Tzu in Norway.