Staffordshire Bull Terrier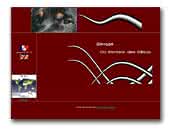 Du Porteur des Reaux
French kennel. Breed for type and temperament.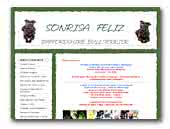 Sonrisa Feliz Kennel
Breeders of Staffordshire Bull Terrier in Russia.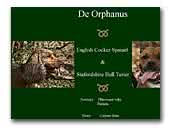 De Orphanus English Cocker Spaniel
& Staffordshire Bull Terrier
The kennel was FCI registered at the end of 2008 after careful consideration. The breeder is my husband ing.Martin Fučík, but for both of us are breeding SBT great hobby and pastime, which brings staffordshire bull terrier in life. We prefer gold, red, Brindle and blue colours - with white points. Black stafies possess.Our plan for the future is to import the blue bitch from the UK and our coverage of Julia therein.

First puppies expected early 2011 and first top cover for our dog also.

English Cocker Spaniel breed is the perfect complement to our stafordšírskými bull terrier mum, and thank you for the opportunity to treat these amazing creatures. They currently own two bitch - gold - at the height of the border, and orange roan. Both come from very good bloodlines and are chosen for them the best coverage with unrelated pedigrees. The first litter is planned for 2011.
English Cocker Spaniel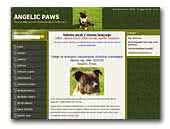 Angelic Paws
- kennel of Staffordshire Bullteriers
We are small hobby breeders of Staffordshire Bull Terrier in Czech Republic.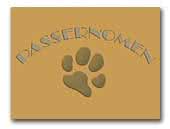 Passernomen Kennel
The Passernomen affix was established in 2008 and it's belongs to Mrs. Joanna Marachowska and Mr. Tomasz Marachowski.

We have in our Kennel Staffordshire Bull Terriers and Shih-Tzus. Our first introduction to the Staffordshire Bull Terrier was in 2007 when we bought our first SBT – Rudy Rio and year later we've started attending dog shows. To be honest we were absolutely impressed with this breed previously, but it took longer time to buy our first stafford.

Our Shih-Tzu we have from 2005, but we are connected with this breed longer time as we have Shih-Tzu's breeders in our family. All of that was an experience which obviously changed to addiction to have dogs in our life and treat them like a real family members.

We are located just outside of Exeter in Devon, where we have lovely place to live with our dogs and opportunity to spend nice time during walks and training with them.
Shih-Tzu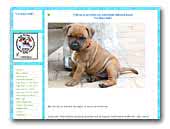 Van Iduna Staff's
We are a small home kennel breeding Staffordshire Bullterriërs from the Nederlands. Also males available for approven females.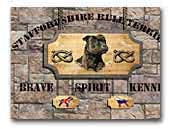 Brave Spirit Kennel Staffordshire bullterrier
Staffordshire Bull Terriers breeders site, with information about Staffordshire Bull Terriers.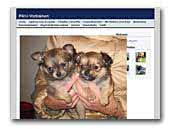 freewebs.com/paivivartiainen
We are a small, home kennel in Finland. Select and breed only healthy frenchies/staffies/chihuahuas.
Chihuahua
French Bulldog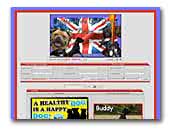 staffbull.forumfree.it
Staffordshire Bull Terrier Forum is the itailan forum on the Staffordshire Bull Terrier.

History of the breed, discussion about the staffordshire bull terrier standard, litters, info about the most famous dogs, info about the health, kennels and all about this wonderful breed. A nice place where the passionate of the staffordshire bull terrier can share and find all the info they need.

See you on the Staffordshire Bull Terrier Forum


« Prev 1 2 3 4 5 6 7 8 9 10 11 12 Next »