Staffordshire Bull Terrier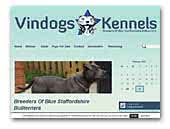 Vindogs Kennels
Blue Staffordshire Bullterriers
Vindogs Kennels is a reputable experienced breeder of Blue Staffordshire Bullterriers, with over 10 years breeding experience, our dogs have many champions in their 5 generation history, all pups are U.K. Kennel Club Registered.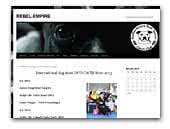 REBEL EMPIRE Staffordshire Bull Terrier
Small kennel of Staffordshire Bull Terriers in Czech Republic.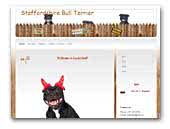 Lucky Staff
Wellcome to happiest & luckiest staffy and amstaff !!!
American Staffordshire Terrier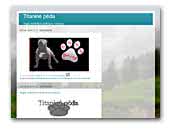 'Titanium foot'
English Staffordshire Bull Terrier kennel
English Staffordshire Bull Terrier kennel "Titanium foot" registered on 2013. Already have the first litter of puppies! Why did we choose "Titanium foot" name? For us it sounds like a strong sleek and light name which better descbe our dogs. English Staffordshire Bull Terrier is really like our name: physically strong, with shiny fur and obedient character dog.

Why we chosed this breed dog? The answer is simple - we wanted a friendly, active only outside and obedien character dog which always be in love with our childrens.For fourth year we are excited and proud of our dog Ruby (real name LADY CAMELORPARDALIS), which came to us directly from the famous England KENNEL Club. She is smart, good mother, a very good nanny to our children (yes yes, check how these dogs called in England - "Nanny Dog"), strong, obedient, quiet, she always take care of her family. In her pedigree tree are even 18 world champions! The best rating for us is not to win the show,but your gratitude and compliments that comes from our new puppy owners. Thank you!



Melrossaffy Kennel
We are a small Kennel of Staffordshire Bull terrer in Italy, we use the best bloodlines from South Africa (ringmaster, tenacious) and English (Ashstock), we select dogs for sport and show, our goal is to create standard and dogs that have character and typical/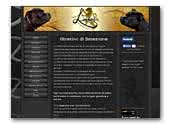 Lionhard staffordshire bull terrier
Selezione amatoriale dello staffordshire bull terrier nel rispetto del codice etico allevatori. stalloni e fattrici testati per le malattie ereditarie.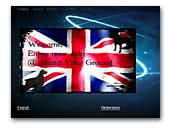 Stand Your Ground
You are welcome to visit us in Estonia. All about our dogs, breeding, shows and more on our homepage....
English Cocker Spaniel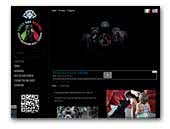 Doan Sbt Kennel
Doan sbt staffordshire bull terrier di Antonio D'onofrio.

Allevamento Staffordshire bull terrier situato a Marigliano in provincia di Napoli (Campania), allevamenti staffordshire bull terrier e cuccioli di staffordshire bull terrier.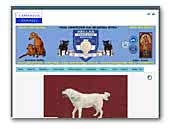 Cephalus Kennel
We are a small family owned kennel and we love breeding dogs of Greek origin. Breeding is our favorite hobby and in no case we do not do it for commercial purposes. This very fact can also be proven through the small number of litters our kennel has completed..

We basically try to rescue and promote the native breeds of Greece and we are supported by a network of relatives and friends. These people are owners of some samples of breeds and they usually ask our kennel for advice on the survival of these breeds in the future.
Italian Greyhound
Bullmastiff
Central Asia Shepherd Dog
Kokoni
Cretan Hound
Greek Griffon
Cretan Moropa
Molossus of Epirus
Cephalonian Hound
« Prev 1 2 3 4 5 6 7 8 9 10 11 12 Next »