West Highland White Terrier

БРАЙТ НОУЗ - Kennel of west highland white and Norwich terriers
Our kennel situated in 20 kilometers from Moscow. We have 12 westies and 2 norwich terriers. All our dogs live as a members of our family. All of them trimed and shown by us.

We breed for helth, exellent temperament and super exterrier.
Norwich Terrier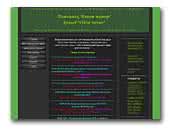 westi-jackrassellterrier.com
Breeding kennel West highland white terrier and Jack russell terrier
Jack Russell Terrier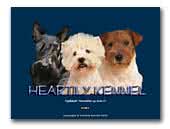 Heartily kennel
Home Of World And European Champions

In our kennel we breed Jack Russell terriers, Westies and Scottish terriers. In our breeding it is not imortant only beuaty but also very important is health of our dogs!
Jack Russell Terrier
Scottish Terrier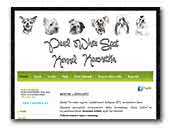 Pearl White Spot Kennel
Kedves Látogató!

Szakál Veronika és Süvöltős András tenyésztők vagyunk, családunkkal Budapest XVII. kerületében élünk. Kutyáink szocializált környezetben, külön berendezett, fűtött 2x20m2-es kutyaházban élnek, kennelek nélkül, saját kertrészben! Nálunk minden kutya családtag! 1994-óta foglalkozunk kutya tenyésztéssel, eleinte West Highland White Terrier (Westie) kutyákkal foglalkoztam csak, majd a kölönböző családi igények és kérések miatt, mindenki kapott egy kedvencet, így került családunkba az Angol Bulldog, Máltai Selyemkutya, Shih-tzu, Chihuahua és a Kínai meztelenkutya is. Kutyáink mind tenyésszemlézettek és díjnyertesek. A MEOE és a Hunor Dog Club által bejegyzettek. Évente 1 - 2 kutya alom születik fajtánként, célunk nem a szaporítás hanem a megfelelő tenyésztés, és persze, hogy a kutyáink is jól érezzék magukat. Az öreg "nyugdíjas" kutyáink a mai napig velünk együtt élnek, ők már megszolgáltak és a szívünkhöz nőttek, életüket elejétől a végéig nálunk, családban élik le. Bővebb információ az eladó kiskutyákról: e-mailen, vagy telefonon.

Üdvözlettel:
Szakál Veronika & Süvöltős András


Deat Visitor!

We are breeders Veronika Szakál&András Süvöltős With my family in Budapest (Hungary) since 1995, dealing with dog breeding. Our dogs are socialized environment, separate furnished, heated dog house they live, no kennels, garden section! We have every member of the family dog! West Highland White Terrier (Westie), English Bulldog, Maltese, Shih Tzu, Chihuahua and Chinese Crested farming. Our dogs are all winners. The MEOE and Hunor Dog Clubs registered. Pedigree, chip, passport available to the puppies! For more information on puppies for sale, contact e-mail.

Best regards:
Veronika Szakál & András Süvöltős
English Bulldog
Maltese
Shih Tzu
Chihuahua
Chinese Crested Dog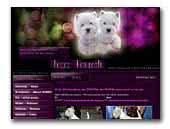 Ice Touch - West Highland Whitte Terriers
West highland white terrier kennel in Czech Republic. Informations about breed, shows, puppies and more. Healthy dogs with excelent pedigrees.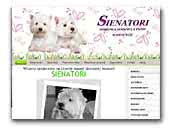 SIENATORI
Domowa hodowla psów rasowych West Highland White Terrier, opis rasy, rodowód, zdrowie, galeria zdjęć. Zapraszamy  do odwiedzenia naszej strony internetowej.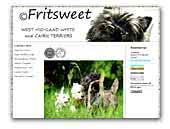 Fritsweet - Westie and Cairn terriers
Мы занимаемся племенным разведением вест-хайленд-уайт и керн терьеров. Наши собаки многократные победители и призеры выставок.
Cairn Terrier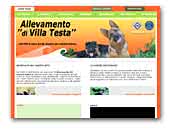 Allevamento di Villa Testa
Professional breeders since 1969.
German Shepherd Dog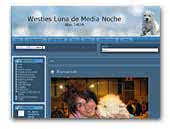 Luna de Media Noche Westies
My name is Almudena, I live with my family and my westies in a region of south western Spain. What began as a dream is becoming reality. We look west highland white terrier breed quality, fully balanced and make their owners happy. Our goal is to make a big family with our puppies and their families.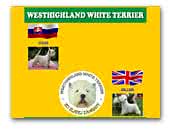 zo Zlatej Záhrady
West Highland White Terrier
West Highland White Terrier zo Zlatej Záhrady, Champion westies.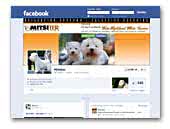 Mitsiter west highland white terrier
West Highland White Terriers, breeder in Greece for 15 years. Kennel and Breed Information, Show results and News. We have 26 Champions and 6 International.

Welcome you to our website in facebook is full of pictures, pedigree and informations for my dogs.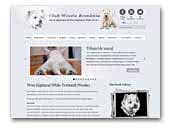 club-westie.com
Club westie Romania site-ul stăpânilor de West Highland White Terrier

Club westie Romania, is the site of the West Highland White Terrier owners in Romania. Here you will find information about the members and club meetings, westie kennels in Romania, care and grooming, nutrition, health issues, training.


« Previous 1 2 3 4 5 6 7 8 Next »