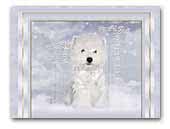 Slamannan Westie
Welcome to Slamannan, We live with our Westies in Limburg in the Netherlands. Healthy dogs with social character is our priority. To achieve the correct genetic inheritance,we see the need for early interpretation of the dogs genetic code. From time to time we have puppies available for loving owners.

We are always willing to provide information on the breed , and the new family's of our puppies will be advised as long as our knowledge is wanted by them. This is not only in the best interest of the pup, we are also happy to keep in contact with our Slamannan's.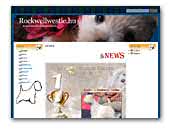 Rockwell - west highland white terrier
I live in the southwest part of Hungary , in the city of Pécs. I've taken up breeding since 1983. At first I dealt with Irish setters. It was in 1991 when my good fortune led me to the westies. Fanny, my first bitch was acquired from Netherland and from that time on I 've been hooked on breeding mainly westies.

Gradually I gained knowledge on a really loveable and kind creature with a very pleasant temperament. Now my life would be totally unthinkable without westies. Fanny's descendants became very smart dogs and a lot of them were awarded by Hungarian, International and even Multichampionship honours. Our kennel really profited when Jack von Darscharia joined to it with his excellent features to be passed on. He was the direct descendant of World Champion Peppermint Drum Major. In 2004 a very promising male westie arrived from another very prestigious Dutch kennel, Armadale's Ian to Rockwell, who had good records. I think he is a really great asset and I hope that the quality level of my breeding enterprise will be raised even more.The westie can be recommended to those who favour dogs as members of the family. They are easy to live and travel with, they enjoy participating in family outings. It is also very fortunate that can take the other really well, without any disputes. And we certainly enjoy their company.

I want to express my truly heartfelt appreciation to Ellie Rijn who happened to be the owner of my first westie and whose continuos support and help I 've been able to count on since that time. The same big thank you goes to her daughter, Marianne Joosse, who guided me into the world of cosmetics. I'd like to thank the ever-pleasing Jack ( now in his 16th year) to Inge van Willigenburg. And last but not least I'd like Gert and Ilse Blankestijn to be added to the list who deserve my thanks, for Ian at first, and for the continuous attention they still provide for our joint efforts.