Whippet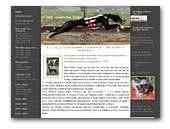 Valentine Dogs Kennel
We expect puppies in February 2013.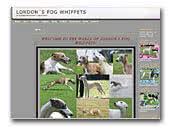 London's fog Whippet Kennel
Small Whippet Kennel in Slovak Republic. Show line, stud male and puppies. Welcome to the world of London's fog Whippets!



Kennel Czech Spring
Welcome to whippets from Czech Spring!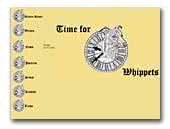 Kennel Time for
Small Kennel in Germany - our passion is breeding the "real" Whippet - the English Standard-Whippet with gentle temperament - FCI/VDH/DWZRV.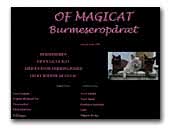 ofmagicat.dk
Whippets for families - The perfect dog

Small breeder of high quality whippets with excellent temper from acknowledged danish/english lines. Our main goal is to breed whippets for every life and for ordinary families. The puppies will be used to others dogs, cats and children.

We socialise our dogs to cope in every aspect of a dog's life.
Whippet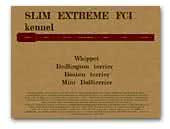 SLIM EXTREME whippet & bedlington
Hodowla SLIM EXTREME FCI jest hodowlą domową, psy są dla nas bardzo ważne jak reszta domowników. Zapewniamy im jak najwięcej kontaktu z ludżmi, zabaw na świezym powietrzu w dużym ogrodzie, spacery lub bieganie. Aby zapewnic jakość naszych szczeniąt, staramy się kryć tylko dobrymi reproduktorami.
Bedlington Terrier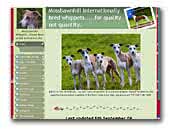 Mossbawnhill Whippets
First and foremost,we believe that whippets should be able to perform the function for which they were originally bred, whilst still maintaining breed type combined with excellent,sound movement.

Mossbawnhill is a small & successful,select "kennel" - we use that term loosely as we do not actually possess any kennels & none of our dogs live outdoors - of whippets and at present one Basenji, our aim is to try and maintain our breed and to strive to produce quality, sound,healthy dogs who are bred for temperament, type and beauty as well as being functional. We are quite unique within the UK & Ireland as we breed a more American/Continental type of whippet, our lines are based on & incorporate some of the top kennels in America, Canada & Europe including Bohem, Lorricbrook,Chelsea, Sportingfields, Starline and Paris (from America & Canada), Airescot, Di Mahana & Woodbrook's kennels (from Europe) and of course our foundation comes from Collooney here in Northern Ireland. The dogs on the following pages are our family, they live in our home with us & sleep in our bedroom,they may not all be showdogs but they are all loving family members.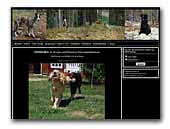 Snöbollen's Kennel
Breeder of Whippet, Golden Retriever & Flatcoated Retriever in Sweden. We breed for soundness and active dogs! Welcome to visit us!
Golden Retriever
Flat Coated Retriever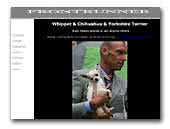 Kennel Frontrunner's
Breeder of Whippets, Chihuahuas.
Chihuahua
Yorkshire Terrier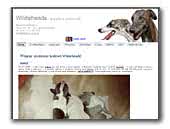 Whiteheads - whippets and greyhounds
Whiteheads - a little home kennel of whippets and greyhounds

We are a kennel only by a name as all of our dogs live happily at our house together with us. We are quite fresh breeders, but we strive for the significant features of the breed for their standard and temper. Our dogs come both from Europe and USA and we want to combine the best bloodlines of both continents.
Greyhound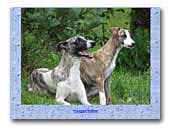 whippet.czweb.org
Whippets, photos, breed.