Yorkshire Terrier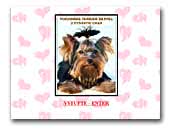 Z Dynastie Chan Yorkshire Terrier
Our dogs have freedom, homecare, big love. We offer pupps for show and breeding program show quality, healthy, happy.




Forever Love kennel
Biewer yorkshire terrier a la Pom Pon kennel, stud dog, pupps - deckrüde, welpen.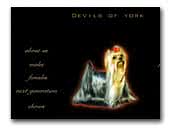 Devils of York
Yorkshire Terrier Champion dogs. My Kennels are Durrer's, Parkside's, Lonely Tune's, Majodian, Niknack's bloodlines, Europewinners, Vice Junior Worldchampion, Interchampions, Multichampions and many countries champion dogs. Puppies available now.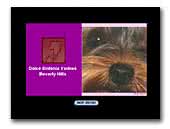 Dolce Sinfonia Yorkies
Dolce Sinfonia is the glamorous home of several stunning Yorkshire Terrier champions of beauty known worldwide. Its founder, Sabrina Parisi has been involved in dog shows and breeding since the early age of 13. Her Yorkies are AKC and FCI registered.

They have won over 100 championships worldwide. They have also been featured in several famous magazines, books, encyclopedia documentaries, CD covers, TV shows; and have been used in dog commercial such as the Eukanuba Dog Food. These amazing Yorkies have also become the choice of many celebrities. Sabrina is the founder of Dolce Sinfonia fashion; founder and president of "America Health For All" a not for profit organization (to assist to pay for pet health care for the needy); supports various charity events. She is the author of "Passport Of A Champion" (an amazing and informative book on toy and terrier breeds) that has been released and sold out in December 2006.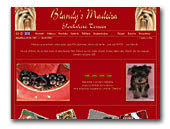 Blandy's Madeira Yorkies
Presentation of our dogs - show results, pictures and more. Occasionally we have puppies.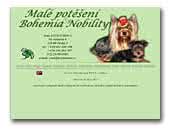 Malé potěšení Bohemia Nobility
Yorkshire terrier kennel (FCI) from Czech. Photos, results of shows and atc.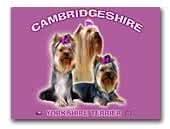 CAMBRIDGESHIRE
Yorkshire terrier kennel from Czech.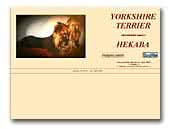 Hekaba
Yorkshire Terrier from kennel Czech Republic.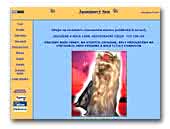 Jasmínový Sen
Yorkshire Terrier breeding station FCI, Czech Republic.


« Prev 1 2 3 4 5 6 7 8 9 10 11 12 13 14 15 16 17 Next »