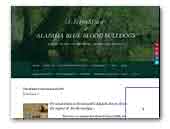 F. F. Fox'SFarm of Alapaha Blue Blood Bulldog
Original Stock, Lana Lou Lane Bloodlines. Our devotion is to PRESERVE the bloodlines unique to the Alapaha. Purity, Temperament and Conformation.

We are not a kennel. Our Alapahas are seen and receive their vaccinations by our veterinarian. They are an extension of our family, and they share our home!