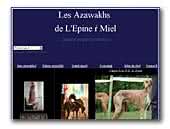 de L'Epine à Miel - Azawakhs
L'azawakh, oska, lévrier du sahel, lévrier des touaregs, un compagnon attachant, intelligent, d'une grande sensibilité, un chien hors du commun. Une pure merveille. Origine coursing et beauté.

The Azawakh, Oska, Sahel greyhound, greyhound of the Tuaregs, an endearing companion, intelligent, high sensitivity, a dog out of the ordinary. A marvel. Origin coursing and beauty.

Der Azawakh, Oska, Sahel Windhund, der Tuaregs, ein liebenswerter Begleiter, intelligent, hohe Empfindlichkeit, einen Hund aus der gewöhnlichen Windhund. Ein Wunder. Origin Coursing und Schönheit.