Azawakh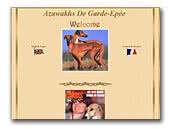 De Garde-Epée Azawakhs
One of the most famous Azawakh kennel in the world since 1987. Mostly old French lines and NEW AFRICAN imported lines. Breeding mostly RED but also BRINDLE and SAND colors.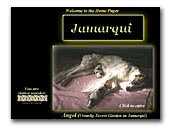 Jamarqui Borzoi
KC Registered Accredited Breeder
We are a small kennel in the Hertfordshire counrty side, breeding selectively for health, temperment and type. Ensure all our stock is "fit for purpose" Our lines go back to the very old English hounds, all bred to the highest standard for substance, size and elegent gracefulness
Borzoi
Jack Russell Terrier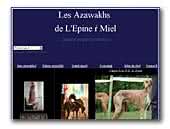 de L'Epine à Miel - Azawakhs
L'azawakh, oska, lévrier du sahel, lévrier des touaregs, un compagnon attachant, intelligent, d'une grande sensibilité, un chien hors du commun. Une pure merveille. Origine coursing et beauté.

The Azawakh, Oska, Sahel greyhound, greyhound of the Tuaregs, an endearing companion, intelligent, high sensitivity, a dog out of the ordinary. A marvel. Origin coursing and beauty.

Der Azawakh, Oska, Sahel Windhund, der Tuaregs, ein liebenswerter Begleiter, intelligent, hohe Empfindlichkeit, einen Hund aus der gewöhnlichen Windhund. Ein Wunder. Origin Coursing und Schönheit.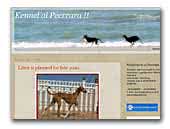 Kennel al Peerrara !!
Kennel al Peerrara. Berja, Almeria Spain. Breeder of Azawakh. Red, brindle and sand.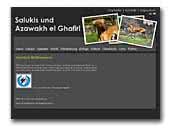 el Ghafiri
Salukis since 1992 and now Azawakh ...
Saluki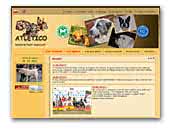 ATLETICO
Welcome to the website of Dog Breeding ATLETICO. Our culture can boast 25 years experience. Dog breeds that we breed are: French Bulldog, Chart Azawakh African, Thai Ridgeback, Boston Terrier, English Bulldog. Come and visit us people interested in buying the mating females and pups. We offer our assistance and our knowledge.

Witamy serdecznie na stronie hodowli psów rasowych ATLETICO. Nasza hodowla może poszczycić się 25 letnim doświadczeniem. Rasy jakie hodujemy to: Buldog francuski, Chart afrykański azawakh, Thai Ridgeback, Boston terrier, Buldog angielski. Zapraszamy osoby zainteresowane kryciem suk i zakupem szczeniąt. Służymy pomocą i naszą wiedzą.
Thai Ridgeback Dog
English Bulldog
French Bulldog
Boston Terrier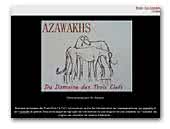 Du Domaine des Trois Clefs azawakh
Retrouvez sur notre site toutes les informations sur nos azawakhs, pédigrée, photo, résultats, en compléments des news du blogs et de notre facebook.

Find on our site all information about our azawakhs, pedigree, photo, results, in complement to the news of us blogs and to our facebook.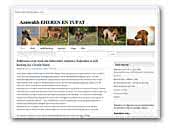 Eheren En Tufat Azawakhs
We are a small kennel in Austria. We are breeding with the aspects of health and for the love and the future of the breed. Our puppies grow up with relation to our family and to our aduld dogs.