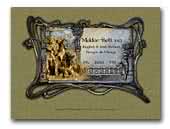 Meldor-Sett FCI Kennel
Irish setter Meldor kennel is a home developing breeding. Our dogs come from very well known kennels in England. Our aim is to breed dogs pure english lines. In puppies' pedigrees you can find famous english dogs.

Puppies from our kennel are bred at home as family mammbers. Thanks to this they have superbe contact with people. Thay are healthy, well cared and under the eye of a veterinary. Puppies from Meldor find new homes in loving familys all around Europe. With their owners they have many succes on shows. Thanks to their grate hunting instinct they feel marvoulously hunting in the fields.
English Setter
Irish Red Setter