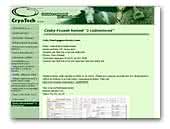 Cesky Fousek 'z Lubiechowa'
"z Lubiechowa" We are breeders of Cesky Fousek`s. This breed is Czech wirehaired pointing griffon, dog with long history in our country. Great peculiarity of Cesky Fousek is: Cesky Fousek does not hunt for his fondness but for his master. My father was big person about breeding of Cesky Fousek`s for 40 years and I continue in his job, together with my wife.

We have 2 females, mother and daughter, very good exterior and tested on hunting tests. They are including in breeding program of our club. Some of their puppies are in our breeding program, too. ...

You like more information`s about Cesky Fousek or are You looking for puppy or trained dog, please contact me. It is part of my job for our club of Cesky Fousek breeders.

Ing. Pavel Dostal / International secretary of "Club of Cesky Fousek breeders" Czech republic.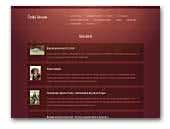 Kennel Gothywen
We are kennel of Cesky fousek. It is a breed of hunting wirehaired pointing dogs. We have female tested on hunting tests, she is succsessfull also in shows. We have also a stud dog, he is also tested on hunting test and he is a Czech Champion and Polish Champion.