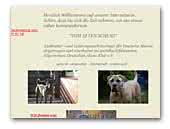 Alanos 'vom alten Schlag'
First and foremost, we keep and breed Alanos because they inspire us, the nature of these dogs is unique, health proverbial (there are very few Molosserrassen the struggle is not with HD / ED) and beautiful they are anyway. There are great family dogs, plus excellent protection dogs, if any training need only little to protect her family.

Even our Alanos who have not grown up with children who are fond of children !! For us Alanos came into question, because we were looking for a medium-sized breed that is healthy with you generally can do everything (family, ministry, sports) and which is clear in your mind. Simply put Alanos are straight! Is important, especially when you want to work with the dog, but also a balanced family dog to get him used to the different surfaces and noise.

We have this include planning, iron bars, pebbles positioned in the garden and the puppy room, the puppies must walk over to get to their playground. It is then quite normal that there is always something else beneath their feet. If we have piqued your interest, we look forward to your call. It is a rare breed that is bred only in Germany. Interested parties are welcome. Please visit our homepage.