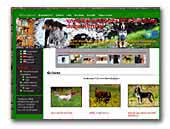 vom BerufsJager FCI
Hunting dogs Kennel
Hunting without a dog as a wedding without the bride ...

Hunt, participate in competitions and exhibitions, mainly in Ukraine and Poland

Since 1996 I am a member of the Hunting Association in Poland , a signaller hunting, and judge - instructor of ishooting in the Polish Hunting Association.

In 2004 he went to Lviv in Ukraine where I live today. Currently, the "new earth" I am a member of the Federation of Hunting Dog Breeding in the Ukraine, manager of the hunting dogs in the Kennel Club, judge the work of hunting dogs.

Through the portal created hunting HuntingUkraine.com (ISSN 2225-6997), and cultural exchange of Polish and Ukrainian hunters propagate our interest in the beauty of nature.
German long-haired Pointing Dog