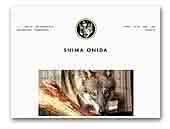 Shima Onida Wolflike Dogs
Shima Onida are breeders of Northern Inuit and Timber Wolflike dogs. We also have a Mid Content Wolfdog that we imported earlier this year.

All our Wolfies are fully health tested, temperament tested and home reared. We do not use kennels, our dogs are our family pets living in our homes with all the comforters of any pet companion. We encourage people to visit our home and meet our dogs before applying for a pup.
Northern Inuit Wolf Dog
Timber Dog
Wolfalike Dog