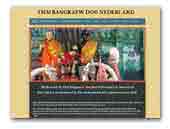 ROY HILL Thai Bangkaew Dog
Welkom bij de Thai Bangkaew Dog Roy Hill kennel in Nederland.

Roy Hill is a small kennel in The Netherlands FCI registered since 1992.

Since 2012 Thai Bangkaew Dogs are our love a dedicated hobby. Dogs have always been a part of my life and love. Not all were show dogs or bred from with some rescued and simply our pets.

The Thai Bangkaew Dog came into our lives purely by accident having previously bred and shown different breeds, it was decided after losing our last old dog, to rescue a dog from Thailands illegal dog meat trade and after getting her home, we fell in love with her wonderful unique character as she settled we learned that she was a TBD. I was so impressed by her that my research started with the quest to import well bred Thai Bangkaew Dogs direct from Thailand to ensure their future in Europe and help preserve this amazing breed.

I started the first Thai Bangkaew Dogs in Europe FB Group together with Paul Stanton, and I have created the Thai Bangkaew Dog Database free to use for everyone having uploaded more than 800 pedigrees with pictures from my research to help me and hopefully other serious breeders that are interested in the development of the Thai Bangkaew Dog breed.

This web site is not just about show casing our dogs but is designed to be informative for all enthousiasts.