Dog Web Design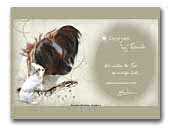 Designs by Thönelt - Dogdesign for everyone
Your need a homepage? You want a individuall design? We design you a special design who puts your kennel in the right light in the World Wide Web for small money. Interested ? then take a little bit time for looking trhough our references.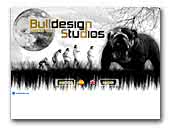 Bulldesign Studios
Diseño Web Canino - Web Design Canine
En Bulldesign Studios, diseñamos su Web de forma particular y exclusiva, considerando todas las necesidades del cliente, así como la dinámica y el tiempo necesario para cada proyecto/web. Los clientes estarán informados de cada paso que damos en el desarrollo de su web. Porque trabajamos con total trasparencia.

Con la presencia en internet, estará disfrutando de la mejor publicidad al precio más económico y con una gran repercusión.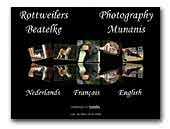 Munanis & Beatelke
Rottweilers - Photography - Design.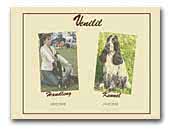 Venilil
English Cocker Spaniel Kennel - Handling - Webdesign.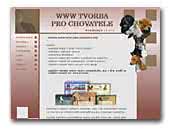 WebDesign Ar neS
Web design and graphics for breeders of dogs and other animals.

Tvorba www nejen pro chovatele psů, ale i jiných zvířátek, případně i pro ty, kteří se zvířaty nemají nic společného ...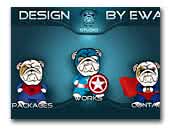 Design by Ewa
Studio Design by Ewa, specializes in Dog and Cat breeder web design, developing unique custom designed web sites that are fast loading, easy-to read and professionally designed by an Artist.

We always strive to create websites that look and function to the highest standards.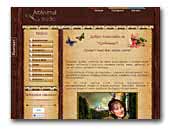 ArtAnimal - portraits of animals to order
Hello, my name is Prokudina Natalia and I'm a Freelance Web and Animal Designer. I draw portraits of animals I draw from a photo and nature. B I create sites.

On my site you will find gallery of works and exclusive lessons of drawing of animals in program Adobe Photoshop.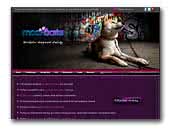 moonbarks - Unique design for breeders
- unique design for breeders (kennels, groomers, veterinarians,...)
- 5 years experience brings you the highest quality in impressive webdesign
- professional website in modern style
- Webdesign, business cards, flash animations, mating flyers,...
- Rich portfolio, more than 150 works for breeders from whole Europe.
Pillan K Dog Web design
Specialized in kennel pages.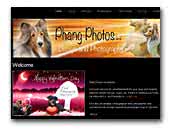 Phang Photos
Designs for show dogs and kennels for all around the world. Low prices with great quality.
Will listen to demands and guarantee your happiness with it.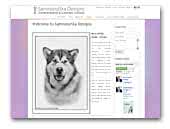 Samnooshka Designs
Website and Graphic Design for dog/cat/horse breeders and much more. We design not just websites but advertising and logos. Competitive prices and great value, top quality work. Contact us for our samples.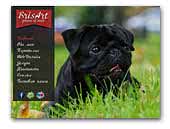 brisartphoto.jimdo.com
WEB-Design for dog kennels and Animalistic Photo from BrisArt.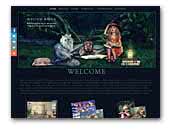 designbyis.com
Web Design By IS, Websites for breeders, Photo retouching service

Have you ever thought of having your own website, advertising your kennel / animal, or their talents in other areas? If so, then you've come to the right place! Design By I.S specialize in graphic web design for cat & dog breeders also other animals alike, but not exclusively, I can also do web design, associated with other pets, kennel clubs or various other interesting topics. I offer a wide range of web design services to help you get a unique website that will reflect who you are and what you want to achieve , ensuring that you look professional at what you do. I also offer exclusive cards for general occasions like Christmas, Wedding & Birthday cards or personalized cards for that special someone in your life alongside Digital Art which basically enables me not only to touch up your photos but to actually add or accentuate th e perspective in them ..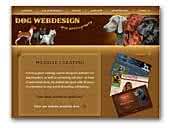 dogphoto-webdesign.com
Professional Webdesign and Dog Photography Welcome! Custom made, great looking websites over the World - especially for dog breeders. Our website and portfolio...


.

.