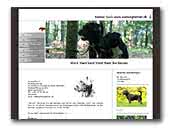 Kennel Duvå - Patterdale / Fell terrier
Our Working Terriers is hunting dogs used mainly to bolt after foxes, driving them out from their hiding spots. It has a tremendous drive and is extremely strong mentally and are very persevering. It has a great need for employment, its very tough and has a tireless hunting pleasure. The Working Terrier is also very quick to change his mind, and as soon as it is indoors, the calm, loving and always happy dog shows up. A really lovely familydog, a perpetual entertainment and a loyal hunting companion.

The aim of Kennel Duvå is first and foremost, to help maintain the Working Terrier, as the great working dog it always was meant to be. We breed healthy, strong and talented game types, which are harmonious, social, and contact-seeking. The dogs must be confident and nervous dogs avoided.