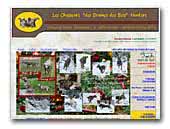 Les Chasseurs des Brumes des Bois Hunters
Weimaraners, Whirehaired Pointing Griffons & English Pointers

Dogs breeding "des Brumes des Bois" is a small familly breeding  specialized in Weimaraner (short hair since 1997) and Whirehaired Pointing Griffon (Since 2010). The dogs are essentially selected for hunting and work as well as beauty.

Our dogs comes from work and beauty lines :  talrous dogs awarded in Beauty  Shows (several multiple champions) + all our dogs are awarded in Open Field-Trials & working proofs. We are the only breeding in Belgium that can propose real dual dogs at that level (best breeding in weimaraners for many years in open FT (the most difficult ones in comparison to the amateurs FT), as good as beautiful.

The parents are choosen for their aptitudes to work and to hunt as well as their esthetic qualities and their very balanced characters.
Weimaraner
English Pointer