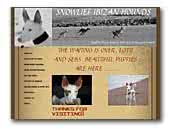 SNOWLIEF Ibizan Hounds
Quality Ibizans bred in a home environment

We are Paul and Liz, Martin and Shaun Egan, we live in a place called Bebington, on a peninsular in between Liverpool and Chester in the United Kingdom. We have owned and loved ibizan hounds for the last twenty years and have recently successfully bred our female Ibizan Hound The Main Monkey Business at Snowlief to a beautiful male Sebson V Oxymoron.

Prior to owning ibizan hounds we have also owned, showed and bred Samoyeds successfully with my late mother Mrs Bessie McMillan. Please feel free to visit our website and enjoy sharing part of our wonderful lives with these amazing dogs.