Silken Windhound / Silken Windsprite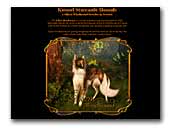 Starcastle Hounds
Silken Windhound Kennel in Sweden
Silken Windhounds are gaining recognition all over the world as one of the very few really serious new breed creations in recent times.

The Silken Windhound is a small longhaired sighthound breed from USA. Starcastle Hounds are proud to be the first breeder of Silken Windhounds in Europe and the first breeder of a Silken Windhound that obtained a national champion title.

WOLKOWO Borzois
Breeding for twenty years, winning numerous titles and gaining numerous championships made us choose shows a bit more rationally and selectively. We are constantly trying to be a part of all the most important shows: European and World Dogs Shows, Crufts and the most important Sighthound Special Shows, as well as the annual Slovenian Sighthound Club Special Show.
Borzoi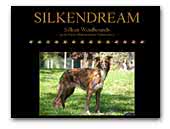 Silkendream Silken Windhounds
A small sighthound - not FCI recognised - a new breed from USA, started in the 80s out of Borzoi x Longhaired Whippet (Whippet x Sheltie). Nice size (45-60 cm), lovely open character with soft and silky coat. Silken Windhounds are allowed to be shown in Slovenia, Slovakia and in Germany at European Silken Windhound Club e.V. shows.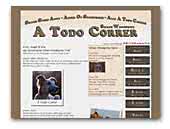 A Todo Correr Silken Windsprite
Silken Windsprite (also known as Longhaired Whippet) Kennel located in Hamburg, Germany. Website with lots of Pictures and Videos.

Golden Merlo - Silken Windsprite
Informationen über Silken Windsprites, die seltenen kleinen Windhunde aus Amerika und Vorstellung der Silken Windsprite Rüden Merlin und Calisto.


.

.