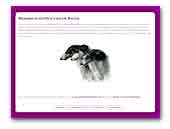 Gryffyn's Aeyrie Borzoi
and Silken Windhounds
We are a breeder/owner/exhibitor of quality Borzoi and Silken Windhounds who are not only lovely representations of their breed, but wonderful and loving companions as well.

Our Borzoi and Silkens have been rewarded in the ring with multiple Group wins and placements; Specialty Best of Breed, Specialty Best Opposite, Specialty Best of Winners, Best Puppy in Specialty Show, Best Rare Breed in Show and Top Ten national rankings. Our dogs have earned championships not only in America, but in Canada and Mexico as well.

Our Borzoi have also earned performance titles in ASFA lure coursing, AKC lure coursing, LGRA straight-racing and NOTRA oval-racing, as well as being Top Five or Top Ten ranked (and the #1 LGRA Borzoi 2000, #1 NOTRA Borzoi, and #2 ASFA Borzoi 2003). This site is an online showcase of our beloved dogs. Please come inside and visit. We occasionally have puppies or young adults available to qualified, loving homes.
Silken Windhound