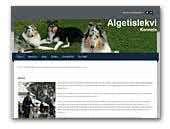 Algetislekvi Collies
We are a small family from Tbilisi, Georgia who has a pack of Rough Collies that we cherish and treat like our own children. We are passionate about our dogs and take care of them making sure that each is fed it's own special diet and guaranteeing they get the right amount of daily exercise that a working breed requires.

If you wish to contact us or desire photos of our beautiful dogs do not hesitate to visit our website.
Collie Rough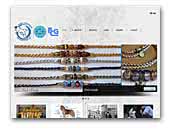 INDIGO MOONLIGHT FCI
Siberian Husky kennel
Welcome to Siberian Husky kennel «INDIGO MOONLIGHT" (FCI)!

On our site you can learn about the wonderful and very human-oriented dog breed Siberian Husky , about the standard and the basics of caring for a puppy . Our kennel is in Tbilisi, capital of Georgia . For the first time we met Siberian Husky in 2006, in Sled Dogs club of Polish city Bydgoszcz. Even then , being fascinated by nature , grace and endurance of these dogs , we decided to have such a pet too. Two of our dogs were born in Georgia , and later three more were imported from Europe - Latvia and Poland .

Our husky pack have bloods from the most famous kennels of the world, such as Nanook, Karnovanda, Kristari's, De Ciukci, Hydrargium, Stephenwolf and some others. Our dogs are successfully exhibited in local and international dog shows, some of them have already became Champions and Grand Champions of Georgia , and have numerous awards and titles , information about that can be found in the section Our Dogs . They are also the winners of Husky Specialty Show - FCI 2012 - Best Male and Best Female . Our pack also receives regular sports load - training in canicross and bikejoring .

We don't breed for eye color ! Principles of our breeding - a continuation of the most famous breedlines and getting healthy puppies in correct anatomical type, with a stable temperament and mentality, who can be adequately exhibited in the ring and be great companions to their owners . All our puppies are being sold with a full package of documents (pedigree , veterinary certificate , contract) and vaccinated by age.
Siberian Husky