Curly Coated Retriever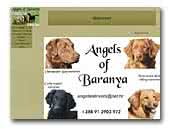 Angels of Baranya
Kennel of Chesapeake Bay, Nova Scotia duck tolling, Curly coated and Golden retrievers. Looked our dogs and enoy!
Chesapeake Bay Retriever
Golden Retriever
Nova Scotia Duck Tolling Retriever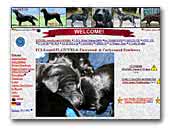 FLATCURLS
Flatcoated & Curlycoated Retriever
... breeding after Championbloodlines, nature, character, health, for Show, Fun, Therapy, Work & Family.
Curly Coated Retriever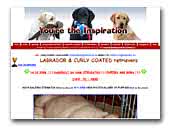 You're The Inspiration
Labrador retrievers & Curly Coated retrievers kennel. Home of european winners, interchampions & multichampions.
Labrador Retriever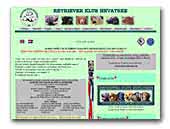 Retriever club of Croatia
Site about Croatian Retriever club. You can find infos about present and future litters, club show informations. You can find all about retriever breeds on one place, you can find all informations about retriever work and many different informations. Site is on two language, English and Croatian.
Golden Retriever
Flat Coated Retriever
Labrador Retriever
Chesapeake Bay Retriever
Nova Scotia Duck Tolling Retriever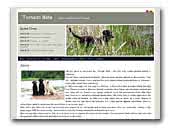 Tornado Beta
The first Curly coated retrievers in Lithuania.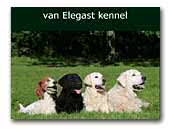 van Elegast kennel
Van Elegast is a small kennel. In 1992 I got my first Curly Coated Retriever and ever since that's my favorite breed. Two other breeds have a very special place in our hearts: the Golden Retriever and the Welsh Springer Spaniel. We take extremely good care of our dogs.

Our dogs are being raised and trained with respect and lots of love. And of course they are living in our house. We want to breed a litter Curly's in 2010. We invite you to meet our dogs on our website.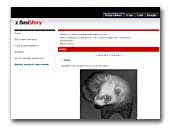 z BasiSfory
We are "home" kennel - our girl are living with us and sleeping in our beds :)

Bredna - WILD COUNTRY MUSIC Diamentowa Zagroda - is brown Flat Coated Retriever girl. She is Polish Junior Champion and Polish Champion. She have several BOB, Best Bitch in Breed titles and one BOGIII.

Sonka - Compendio SUNFLOWER POLLEN - is black Flat Coated Retriever girl. She have several gold and silver medals from shows and she's almost always exellent or very good ;)

Lola - Saxonholme EOA - is black Curly Coated Retriever girl. She come to us from UK ;) She is very young ( 9months) but she have already only the best marks from shows - very promising, Best Baby, Best Puppy and even Best Puppy in Show IV!! :)
Flat Coated Retriever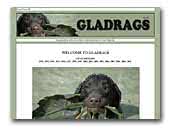 GLADRAGS Curly Coated Retriever
The Ultimate Top UK Kennel of curly coated retrievers owned by Gladys & Hadyn Phillips from Wales in the UK, their history, breed information, pedigrees & photographs of all their Champions in the showring and in the field.

Opportunity of a lifetime to see and read all about them.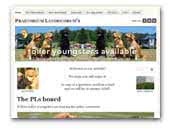 Praetorium Latobicorum's
We breed and work with nova scotia duck tolling retriever and curly coated retriever. Our dogs are health tested, have passed retriever work trials, obedience and rally obedience exams, compete in sled sports, search truffles, have breeding licenses and very few litters.

All our dogs live with us inside the house and are more than just companion dogs. The same we expect from our puppies' doggy active owners.
Nova Scotia Duck Tolling Retriever
.

.