Lagotto Romagnolo / Romagna Water Dog
Chien d'eau romagnol / Wasserhund der Romagna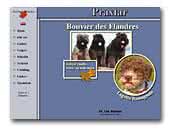 Praxtar
Breeder of Bouvier des Flandres and Lagotto Romagnolo.
Bouvier des Flandres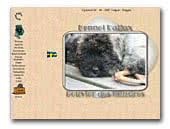 Kennel Rajfax
Breeder of Bouvier Des Flandres and Lagotto Romagnolo.
Bouvier des Flandres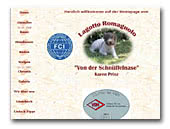 von der Schnüffelnase
Lagotto Romagnolo Zucht
Wir sind eine kleine Familienzuchtstätte für Lagotto Romagnolo in Deutschland / Bayern. Die Prägung der Welpen ist uns sehr wichtig und somit wachsen sie bei uns mit in der Wohnung auf, werden an die täglichen Geräusche von Anfang an gewöhnt.

Doch überzeugen Sie sich selbst und besuchen uns einmal, damit Sie erleben wie unsere Lagotti Tilli, Giovanna, Alessa, Edina und in Kürze noch Nordika bei uns und mit uns leben.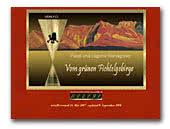 Vom grünen Fichtelgebirge
Poodle und Lagotto Romagnolo
We breed over 20 years Poodles, in a small breeding. The Lagotto is new in my Kennel and we like it so much.

The Kennelname - Vom grünen Fichtelgebirge- stand for much Champions.
Poodle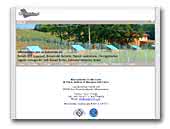 CA' DEL CORSI Kennel
Our dogs has been selected for dog shows and character since 1989.
Bernese Mountain Dog
Appenzell Cattle Dog
American Akita
Miniature Pinscher
Jack Russell Terrier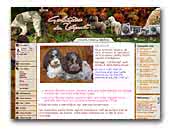 Golatière du Trépont (GdT)
Il était une fois ....
Une bande d'amis épicuriens qui se retrouvaient régulièrement autour de bonnes tables ....
Ils apprécient les truffes (blanches et noires)...
et n'ont de cesse de les apprécier! Mais point de truffe sans chien !!! Et c'est ainsi qu'ils prirent comme compagnons des Lagotti.!!!
Notre élevage de Lagotto Romagnolo était né.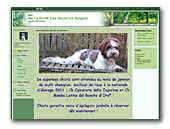 De la Forêt des Hauts de Galgals kennel
Lagotto Romagnolo et Bearded Collie
The Lagotto has happened in our life in 2000 after four years of waiting. There were only 20 in France at that time. Today it is still a rare breed is high and selected for tilting (search for truffles).

The Lagotto is also a great companion dog who loves his family and children. The Lagotto has become our passion.
Bearded Collie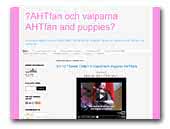 Kennel Nikes American Hairless Terrier
Hi!
We have a small familybreeding in our home, welove to work with puppysocialisazion and enviromenttraining so all puppies are well prepared to life in the forever home.

We work with Natural Breeding and let dogs choose if they want to mate or not, we never interfeare with dogs natural sexual selection. We are interested and educated in ethology, genetics and are certified Dogminder.

In our Kennel we also have long experience from traditional breeding. We are participating in dogevents/courses and are very interested in dogs wellfaire.

Welcome to email us and ask whatever you like:), if you want to know more of our dogs or how we are working!

Ps. This is the reason we work for "free matings" so nobody holds them: in the dogs nose it is an organ called "Vomeronasal organ" - the female can with help from that organ analyze the smell/"feromons" from male and she choose the male who is the best match for her! Female will choose the male who are most unlike her in the immunssystem so the puppies will have a wider immunesystem. If all breeders let dogs mate free, not hold, we would have healthier litters in all dogbreeds:-)

Welcome to visit us...
American Hairless Terrier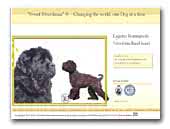 Sweet Riverdance
Lagotto Romagnolo and Newfoundland dogs
Sweet Riverdance has been devoted to the Newfoundland breed for about 16 years old. We recently added a new breed to our Family and after about 3 years the little Italian Lagotto Romagnolo or truffel dog is another breed we closed into our heart.
Newfoundland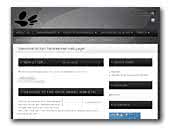 Kan Trace kennel
Kan Trace kennel is home of European and World winners. Home of BIS, BISS winners and multi champions. We are breeding Weimaraners, PBGV`s, Dachshunds SS and Lagotto Romagnolo.
Weimaraner
Petit Basset griffon vendéen
Dachshund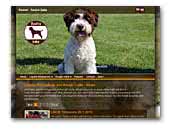 Radiva Baby
Lagotto Romagnolo and Rough Collie Kennel
We breed lagotto romagnolo and rough collie. All our dogs live in close contact with the family. They are used to children and other animals. Our effort is to breed healthy dogs in compliance with FCI standards with good temperament.
Collie Rough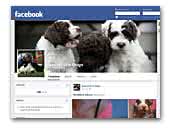 AguaTerra
Lagottos are wonderfully adaptable and happy to live with all members of the family, so they easily move in with small children and other pets. Extremely loyal, they quickly become very attached to their owners. We now have first litter available! These gorgeous puppies live in spacious garden, they are used to children and other dogs.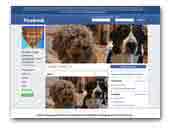 Jacwingowy Grod
We are a family dog breed from Poland. Dogs are one of the most important part in our lives. We breed Lagotto Romagnolo and Greater Swiss Mountain Dog. Our website has been renoveted at the moment so we encourage you to visit our Facebook page and ask if you have any questions!
Greater Swiss Mountain Dog