Bichon à poil frisé / Bichon Frise / Gelockter Bichon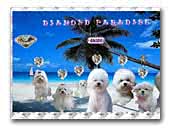 DIAMOND PARADISE FCI
DIAMOND PARADISE FCI - top kennel bichon frise & maltese

I have the most beautiful dogs around the world:
- bichon frise from Finland, Norway, Sweden, Hungary, USA - Panderosa's, Petit Ami's, Paray, Manoir's, Gummi Bear's, Hardy Flaps, Ligray, Tiranuss,Appleacre's, Bodacious, Sasikay, Diamella, z Nieba.

-maltese from USA, Korea, Italy, Germany, Hungary - Ta Jon's, Wonder of Love, Supers-Supers, Cinecitta, Sun Isle's, Marcris, z Noveho Mesta, Rhapsody's, ShineMore's, Divine's, Sinphony of Venice, Forussi, Maltezzi, Maltissimo, Lora.
Maltese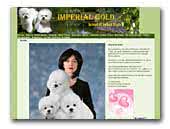 Imperial Gold
Kennel of bichon frises.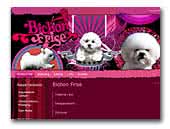 bichonfrise.com.pl
Bichon Frise in Poland, Kennels, breeders, puppies and more.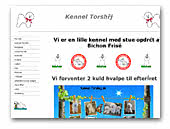 Kennel Torshřj - Bichon Frisé
Kennel of Bichon Frisé from Denmark.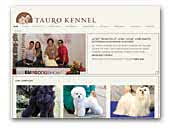 Tauro Kennel
Welcome to our kennel! We work with the several blood lines. In our kennel we have Champions, World Champions and Multi champions. Our dogs are the part of our life! We are interested in a healthy generations. Please, visit our site.
Maltese
Poodle
Pomeranian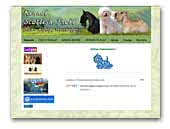 Scottish Troll
Scottish terriers, Norwich terriers and Bichon frise kennel Almaty, Kazakhstan.
Scottish Terrier
Norwich Terrier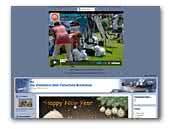 Domaine Des Peluches Blanches
Elevage Familial de Bichons Frisés, nos chiens proviennent de Roumanie , Finlande et Ukraine . Nos chiens ont des titres dans plusieurs pays , et leurs parents sont issus de champions et multi champions . Plus d'informations sur notre site!!!! N'hésitez pas à nous contacter ..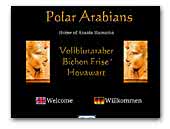 Polar Arabians Bichon Frisé
Show quality Bichon Frisé

We are a small show and breeding kennel for Bichon Frisé, located in Germany. We use only successful international showlines (scandinavian, canadian and belgian winners), raise and keep them as family dogs. All studs and females are successfully shown in the ring, firstclass characters, pure white thick coat with phantastic pigment and big dark eyes without tears. Open minded characters are as important as healthyness and outfit. We prefer a lovely character and sweet teddybear faces. Puppies available from time to time!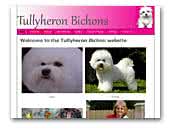 Tullyheron Bichons
I have been showing, grooming and Breeding Bichon frise for 30 years, with many Champions.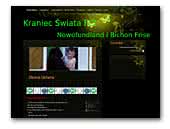 Hodowla Kraniec Swiata
Nowofundland i Bichon Frise
Hodowla psów rasowych Nowofundland i Bichon Frise.
Newfoundland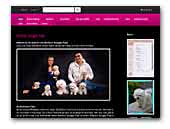 nedinassnugglepups.nl
We are from Nedina's Snuggle Pups and we are registered since 30 July 2012. Nedina's Snuggle Pups breed our dogs at according to the guidelines of the Board of Directors and the breed club Pekingese and Dwerspanielclub. Which we are affiliated.

Together with its members we set the guidelines in a professional way in for improvements to the keeping and breeding of the Bichon Frisé. The Board of Directors and the breed club supports and conducts research on socialization and preventive health care of pups and parents and is working on preventing and reducing hereditary disorders.