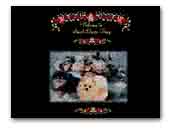 Sweet Dream Pomeranians
Our Pomeranian Puppies are raised with TLC (Tender Loving Care). We are committed in producing the best Quality Pomeranians Ever! We at Sweet Dream Pomeranians, have been striving since 1997; following the guide lines in the Year 2000, of the American Kennel Club Standards. Our Pomeranian Puppies come with 1 year Health guaranteed against any life threatening issues!

We only have ONE (1) Litter a year on any female I/We breed! Our Pomeranians are Beautiful, Healthy, Intelligent, Awesome and of course Lovable Little Creatures. They make excellent pets for all families with or without children.

We have Available: Pet Companion, Show Prospects Breeding Quality.

Our little ones range from 2.5 to 7 pounds full grown, We do NOT breed for under 4 pound range, the standard is 4 to 7 pounds, ( 4 to 5 Pounds better for the show ring!). We specialize in ALL colors from: Red, Orange, Orange Sable, Wolf Sable, Black, Chocolate, Blue, Black & Tan, White, Partis, Tri- color, Merles ...