Shar Pei


Zolkodog Shar-Pei
Shar-pei site.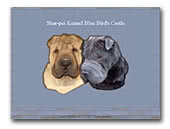 Shar-pei kennel Blue Bird's Castle
Familial shar-pei breeder. Sometimes puppies available in the colors blue, lilac, isabella and red, with pedigree Sint-Hubertus and guarantee. Blue stud available.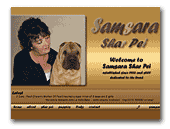 Sue Medhurst & Carol Gray
Breeders of quality shar-pei for almost 20yrs Sue is qualified two award CC'S and has judged in FCI countrys.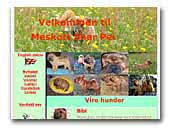 Meskott Shar Pei
Breeder of Chineese Shar Pei in Norway.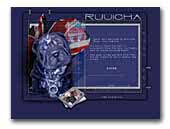 RUUICHA SHAR PEI
Shar-pei with sound temprements. We here at Ruuicha we show/love/breed shar pei.These dogs are our life and raised with there upmost well being in mind.We breed from sound dogs with gr8 temprements and have pups ocasionally.We have many colours fawn, black, apricot, isabelle, blue.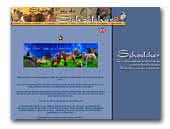 Los Shar-peis de Schoelcher
Cria del Shar-pei en ambiente familiar. Nos ocupamos de la salud, caracter y belleza de nuestros ejemplares.

Colores: Negro, rojo, fawn, crema, silver sable, apricot, chocolate, azul, lila, etc. Respondemos cualquier consulta sin compromiso.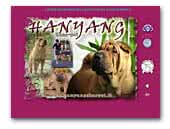 HanYang Shar-pei Kennel
We are in North Italy, we bred since 2001.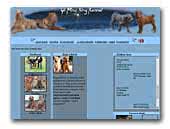 Qi Ming Xing shar-pei kennel
In our kennel with a familie environment we are proudly breeding with Russian leeding breeds of champions and pedigree with world champions.

We can offer you pups in the following colours: Red, Mahogony, Cream, Black and Chocolate, Blue, Lila, Izabella, Apricot, Cream and Red dilute For us is very important that our puppies come from family enviroment.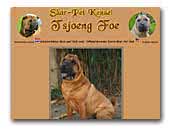 Tsjoeng Foe Shar-Pei kennel
Official breeder of the Dutch Shar-Pei club. Our combinations are based on health , structure and caracter. Breeding for sound and healthy dogs. All our dogs are X-rayed and judged by the breedingcommitee of the SCN. In our kennel we have several champions. Puppies are sold with quarantee.