Akita / Japanese Akita Inu


DEI LAGHI TAILLY Kennel Akitas
Recognized kennel by FCI, ENCI AKIHO breeder in Italy, excelent quality japan akitas.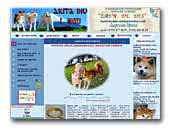 Lavr De Dis Akita-inu kennel
Akita-inu in Moscow.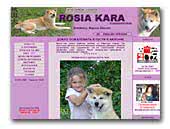 Rosia Kara Akita-inu kennel
Kennel akita-inu (japanese) in Russia. Picture stories with large dog show the Europe.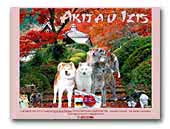 Akita u Izis FCI
Akita Inu & Shikoku Kennel
I have japan akita since 1997 (from Japan, Spain, England, Czech Republic) and japan shikoku since 2006 (only in Poland).

All my dogs are free from displasia and free from genetics eyes diseases. Puppies from my kennel live in UK, USA, Italy, Puerto Rico, Germany, Belgium, Denmark, Osterreich, Latvia and France.
Shikoku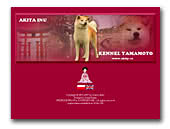 KENNEL YAMAMOTO - Akita inu
KENNEL YAMAMOTO the best breeding Akita inu in Poland 2004-2006.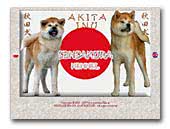 SENSAKURA kennel - Akita inu
Sensakura (FCI) - kennel akita inu in Poland. We have excelent quality japan akitas!!! I welcome you on our website.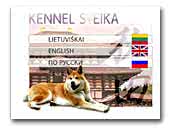 KENNEL SVEIKA
Champion pedigree Japanese Akita-inu in Lithuania.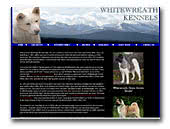 Whitewreath Kennels
Small Show Kennels situated in the North East of Scotland, surrounded by open countryside. Our Akita's are all from exceptionally well bred and respected lines, with many UK and US champions behind them.

All of our dogs have wonderful, loving and playful temperaments and all enjoy free roam of our home and gardens, they spend time indoors with us as a family every day.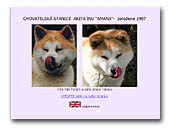 Amana
We breed akitas since 1987. We have a lot of Interschampions. We have a dog from France. We sell red and brindle puppies.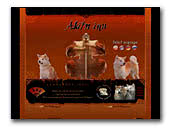 AKOGARENO (FCI) Hodowla Akit
Jesteśmy domową hodowlą japońskich psów rasowych Akita Inu. W swojej hodowli mamy import z Japonii z którym wiążemy swoją przyszłość. Nie jest to ostatni import z kraju "kwitnącej wiśni" Już wkrótce następne. Zapraszamy do obejrzenia naszej strony.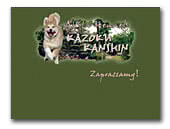 KAZOKU KANSHIN Akita Kennel
We are a small Akita kennel from Poland. On our website you will find lots of useful information about the breed including the breed standard, characteristics and description of natural feeding (the BARF diet). You can also read about our three akitas, who are our family:

stud dog Mł.Ch.Pl., Ch.Pl. ASZTAR Imaginacja and females: Mł.Ch.Pl., Ch.Pl. ARASHI Tajgeta, Mł.Ch.Pl. AIDA Puchate liski. We invite you to our gallery, where you can see our akitas in beautiful surroundings, during some of the trips we made together.
.

.