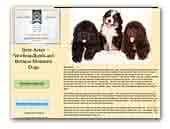 Bear-Acres Newfoundlands & Bernese Mountain Dogs
Our dogs are a very big part of our everyday lives. We have been raising Newfoundlands since 1988 and the Berners joined our family in 2000. Both breeds are absolutely wonderful family dogs.

Our dogs are listed on the OFA database for all the health screening as soon as they are of age to have the testing done. We believe this is a very important part of a breeding program. We also believe in what we produce and we guarantee all our puppies for 5 years. Our door is always open. We have worked with rescues over the years and will continue to do so when the need arises.
Newfoundland