Rottweiler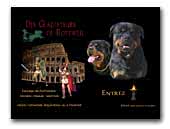 DES GLADIATEURS DE ROTTWEIL
Come and visit our Rottweiler Kennel in France. We work only with the best world bloodlines. our males: AXEL OD VADANORA and THUNDER VON HERRSCHAFT (GONZZO EARL ANTONIUS SON) and our females: ELZA EARL ANTONIUS, BLACK TURK GINA, CHIKITA OD SREMCICA, VOICE DES GLADIATEURS DE ROTTWEIL and the last but not the least BROOKLIN DES GLADIATEURS DE ROTTWEIL!!!.



Polarvargens Kennel
We are found of Rottweilers, ans we work with some of the best BloodLines in the World: Gonzzo Earl Antonius, Bronko Od Dragicevica, Gil Von Hause Milsped, Jumbo vom Kummelsee, Eros von Hause Djurdjurlov, Rick Von Burgthann, Akino Von der Lauterbrucke, etc ... Come to visit our website !!! You won't be disapointed !!! For sure !!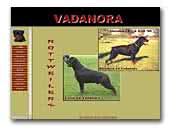 Vadanora Rottweilers
Renome kennel with more then 15 years in breeding and making Champions!

DESCEDANTS OF RICK v. BURGHTAN-MAMBO CROSSENER RANCH-JANOSCH v. SCHERAU-GIL CRNI LOTOS-MORO v. SCHERAU-GONZO EARL ANTONIUS-NORIS ALTEN FESTUNG-ASCO v. LAUTERBRUCKE-CLIF v.D. KONIGSKANZEL ...

Come and visit us!!!



Kennel Seperović
Rottweiler Kennel in Croatia - with 10 years expirience working with Rottweilers and with Champion bloodline in Kennel!!

Come and visit us!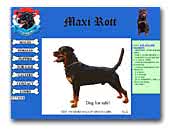 MAXI ROTT Rottweiler Kennel
Home of best awarded male of Croatia for 2005

AYK v.d. MAXI ROTT - son of MAMBO VON DER CROSSENER RANCH and ASTRA-SchHI, HD-frei CHJ-HR, CH-HR, CH-BiH, CH-H, CH-SLO, CH-Ö,INT-CH 30xCAC, 10xCACIB, 5xRCACIB, 4xBOB, HJ Sieger 2002 Östereich KS 2003

We have in our kennel the best German - Croatian - Hungarian bloodline. Current litter is from AYK v.d. MAXI ROTT - Young Champion Croatia-Young Champion Slovenia, Hungary Club Sieger 2005 HD-A

BONY VON DER MAXI ROTT (GIL VON HAUSE MILSPED x SINDY ALTEN FESTUNG)

Please visit us on our web-site. We have dog of champion bloodlines for sale!!



Vom Saton Rottweilers
We are small show and working kennel and our dogs live with us as part of the family. Our breeding program is very strict and lean on best bloodlines available - mostly German.

The goal is to produce rottweilers with a hard temperament, sound nerves, good drives, good hips and pleasing to the eye to look at. The perfect combination is to have the temperament to live as family member and still function as very good working dogs. We doing all we can to avoid health and temperament problems by researching pedigrees and screening parents for certain inherited problems before breeding!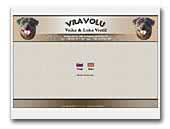 VRAVOLU Rottweilers
Rottweiler kennel from Ljubljana, Slovenia.
Home of: Ch.Hr, Ch.J.-Slo THOR MUMLEK D.O.B. 20.02.2004, BH, IPO 1, HD-frei
Ch.J.-Slo AIKA MUMLEK D.O.B. 10.03.2005, BH, HD-frei
CORA MUMLEK D.O.B.: 28.11.2005, daughter of Xaver vom Haus Rumpel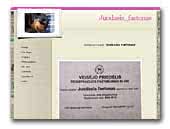 Juodasis faetonas Rottweiler kennel
Rottweiler kennel in Lithuania. Info about litters, photogalery.