Rottweiler


Polarvargens Kennel
We are found of Rottweilers, ans we work with some of the best BloodLines in the World: Gonzzo Earl Antonius, Bronko Od Dragicevica, Gil Von Hause Milsped, Jumbo vom Kummelsee, Eros von Hause Djurdjurlov, Rick Von Burgthann, Akino Von der Lauterbrucke, etc ... Come to visit our website !!! You won't be disapointed !!! For sure !!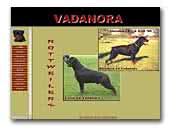 Vadanora Rottweilers
Renome kennel with more then 15 years in breeding and making Champions!

DESCEDANTS OF RICK v. BURGHTAN-MAMBO CROSSENER RANCH-JANOSCH v. SCHERAU-GIL CRNI LOTOS-MORO v. SCHERAU-GONZO EARL ANTONIUS-NORIS ALTEN FESTUNG-ASCO v. LAUTERBRUCKE-CLIF v.D. KONIGSKANZEL ...

Come and visit us!!!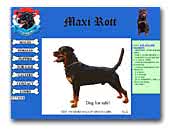 MAXI ROTT Rottweiler Kennel
Home of best awarded male of Croatia for 2005

AYK v.d. MAXI ROTT - son of MAMBO VON DER CROSSENER RANCH and ASTRA-SchHI, HD-frei CHJ-HR, CH-HR, CH-BiH, CH-H, CH-SLO, CH-Ö,INT-CH 30xCAC, 10xCACIB, 5xRCACIB, 4xBOB, HJ Sieger 2002 Östereich KS 2003

We have in our kennel the best German - Croatian - Hungarian bloodline. Current litter is from AYK v.d. MAXI ROTT - Young Champion Croatia-Young Champion Slovenia, Hungary Club Sieger 2005 HD-A

BONY VON DER MAXI ROTT (GIL VON HAUSE MILSPED x SINDY ALTEN FESTUNG)

Please visit us on our web-site. We have dog of champion bloodlines for sale!!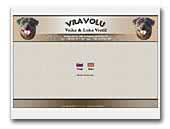 VRAVOLU Rottweilers
Rottweiler kennel from Ljubljana, Slovenia.
Home of: Ch.Hr, Ch.J.-Slo THOR MUMLEK D.O.B. 20.02.2004, BH, IPO 1, HD-frei
Ch.J.-Slo AIKA MUMLEK D.O.B. 10.03.2005, BH, HD-frei
CORA MUMLEK D.O.B.: 28.11.2005, daughter of Xaver vom Haus Rumpel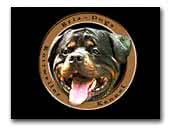 BRIA-DOGS
Top Rottweiler Breeding Station - Slovakia.
Puppy to reserve. Father: HENRY VON DER HASSBERGHOHEN - SON AKINO VON DER LAUTEBRUCKE; Mother: BEAUTY GERO-DOGS - DAUGHTER BRONKO OD DRAGIČEVIČA.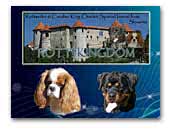 Rotti Kingdom
Rottweiler kennel from Slovenia. We breed show quality Rottweilers. Some of our dogs: CLARUSCHA VOM HAUSE EDELSTEIN, TRIXI EARL ANTONIUS, HOLLY VOM KALACBERG, ANJA VOM BENI, BELLA ROTTI KINGDOM.

We are breeders of Cavalier King Charles Spaniels from Slovenia. Puppy inquires welcome.
Cavalier King Charles Spaniel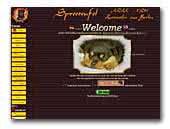 Spreeteufel ADRK Kennel
We live FOR our Rottweiler NOT FROM our Rottweiler. Spreeteufel was Klub Youthsieger, Europasieger, Bundessieger and gekoert. Visit our homepage and you will find very good old german bloodlines without Aki v.d. Peeler Hütte. Photos and information.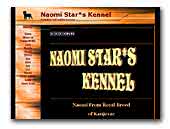 Naomi Star*s Kennel
FCI registred top quality dogs. We are a Bosnian kennel breeding top show and work lines. All of our dogs have the perfect Rottweilers tempermant as well as excellent confimation. Information and pictures of our dogs, show results. All dogs for sale.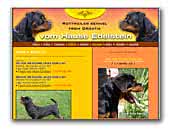 vom Hause Edelstein
Welcome in Rottweiler Kennel from Croatia "vom Hause edelstein" Official Site. Home of: Cliff v.d. Raspeburg, Destiny od Dragicevica, Chiquita vom Hause Edelstein, ...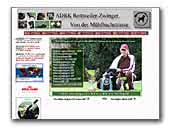 Rottweiler Von der Mühlbachstrasse
ADRK Rottweiler Zwinger Von der Mühlbachstrasse.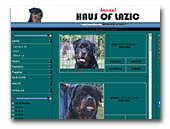 Kennel HAUS OF LAZIC
Site from Kennel "HAUS OF LAZIC" we have a lot of quality dogs (females, males, puppies for sale). You can visit our site and send us mail if You are interested in some of our dogs.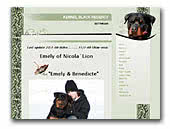 KENNEL BLACK REGENCY
Rottweiler Kennel in Norway. Top Winning Show Dogs.



.

.