Dog Breeders > Germany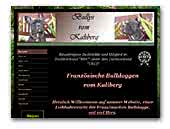 Bullys vom Kaliberg
Französische Bulldoggen Liebhaber Zucht aus Süd-Deutschland.
French Bulldog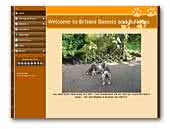 Brizani Basset-Hound
and Bulldog Kennel
We are a small family run Kennel in the north of Germany between Berlin and Hamburg.We have around 10 dogs (only Bassets + Bulldogs) since 45 years and since than we like to go on shows to meet other dog peoples from other countries and make friendship with them. We have got a profound knowlegde of bloodlines over the years and breed very selective.
Basset Hound
English Bulldog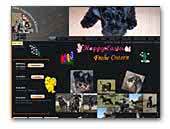 Zwergschnauzer vom Augustine-Kloster
Ich ziehe meine Welpen nicht im Zwinger auf. Sie haben Auslauf im Garten und Nachts sind sie in ihrem Hundezimmer. Sie werden im Rudel geboren, die "Tanten" sind von der Geburt bis zur Abgabe dabei. Ich versuchen sie optimal auf ihr weiteres Leben vorzubereiten. (Autofahren viele Geräusche, andere Hunde , Zug, große Auto´s u.s.w.)
Miniature Schnauzer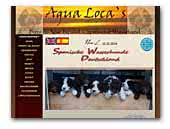 Agua Loca's Perro De Agua Español
Breeder of Spanish Waterdogs.

Perro de Agua Español in Germany (VDH / FCI).
Spanish Waterdog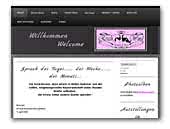 'Resch Wind' Greyhounds & Borzoi
Sighthounds...... beauty and performance

Wir züchten Show- und Familienhunde. Gesundheit, Wesen und die Einhaltung des FCI Rassestandards sind unser Ziel. Besuchen sie uns auf unserer Homepage um einen ersten Eindruck zu gewinnen. Sie sind herzlich willkommen auf einem Besuch in unserem "Resch Wind Paradies" vorbei zu kommen. Den ersten Kontakt knüpfen wir gerne per Email oder per Telefon Auf ein baldiges kennenlernen ihre Familie Schmidt & Resch Wind
Greyhound
Borzoi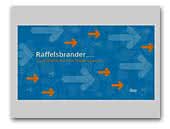 Raffelsbrander
Zucht von Irish Water Spaniels
I breed Irish Water Spaniels in Germany.
Portuguese Water Dog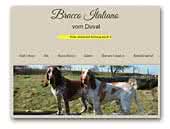 vom Duval Bracco Italiano
Kennel for Bracco Italiano in Germany.


Italian Pointing Dog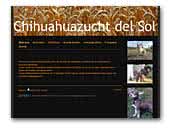 Chihuahuazucht del Sol
Wir sind eine kleine Chihuahuahobbyzucht, die viel Wert auf Gesundheit, Charakter und ein harmonisches Erscheinungsbild legt. Unsere Hunde sind vollwertige Familienmitglieder und können frei wählen, ob sie mit ins Haus, oder lieber frei im Garten auf unserem Hof spielen wollen. Unsere Welpen kennen bei Auszug (mit 12 Wochen): Pferde, Katzen, Hunde unterschiedlicher Größe, Hasen und sämtliche Alltagsgeräusche.
Chihuahua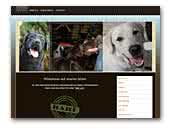 Allegras Hopes Labradors
Labrador Retriever Breeders - Germany. Hohenkammer.

Labrador Retriever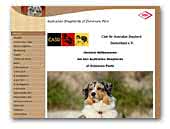 Of Dunmore Park Australian Shepherds
We are a small kennel located in the north of Germany, near Hamburg. Our aim is to breed healthy and versatile Australian Shepherds with good temperament and excellent quality. We are VDH/ FCI members since 1996.
Australian Shepherd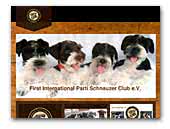 fipsc.com
First International Parti Schnauzer Club e.V.

We are breeders of Partischnauzer in different colors and sizes. We welcome you to our site. We hope that you enjoy and get to know this wonderful breed that we love and care. We want to breed healthy puppies with good temperaments. Our schnauzers are raced in the family with best socialisation. Please vistit our homepage!
Miniature Schnauzer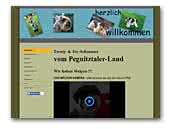 Partischnauzer vom Pegnitztaler-Land
Welcome to "vom Pegnitztaler-Land". We breed Partischnauzer in all colours for family and show. Our schnauzers are raced in the family with best socialisation. Our goal is to breed healthy loving dogs. Please vistit our homepage!
Miniature Schnauzer
.

.