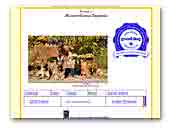 Hanabrit German Shepherds
Breeding Shepherds that are squarely built with muscle front & back, with a very slight angulation in it's hip and a pretty head and a huggable personality.

Our dogs are observant, obedient and a pleasant member of the household, quiet in their own environment, especially with children and other animals, and at ease with adults. Overall, they present a harmonious picture of innate nobility, alertness and self-confidence.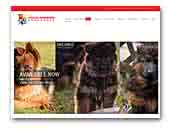 Haus Amberg Shepherds
Haus Amberg Shepherds is a family-based kennel that breeds for the love and preservation of the German shepherd dog (GSD). We offer show and working dogs, as well as family pets and service dogs from high-quality German bloodlines.

The Haus Amberg Shepherds team has been in the German shepherd community for over 45 years. Patrick and his wife Alishia have spent years learning the proper methods to compassionately breed, preserve and train German shepherds. They believe it is of the utmost importance uphold this standard and spend countless hours to achieve and maintain this standard. Both Patrick and Alishia's love for dogs plays a huge part in the quality of their puppies.

As breeders, they are happy to help you find a perfect new addition to your family. Haus Amberg emphasizes proper care and upbringing of each of our puppies to ensure the correct development of personality and socialization.

The best lines of German shepherds are located right here in Germany. Owning a quality German shepherd dog makes a world of difference. Haus Amberg Shepherds can help you find what exactly you are looking for as they work with many local breeders and kennels here in Germany. Whether a family pet or top of the line German shepherd show dog, Haus Amberg are able to match you with the perfect pet. One of their priorities is to be sure that the personality and temperament of the dog matches its owner and what they are looking for in their German shepherd.

Breeding Since 1969
Johann "Hans" Eiban, Patrick's grandfather, started breeding German shepherds in 1969 under the kennel name, vom Krumbachertal, out of Amberg, Germany. Hans was a well-respected breeder, judge and the vice president in the Amberg community for years. His Opa's love for the breed and for the sport of Schutzhund was unparalleled.

We are in Germany and the USA
Haus Amberg Shepherds is located in Amberg, Bayern, Germany, which is about 45 minutes from Nuremberg and 2 hours from Munich. We have two US locations: Escondido, California and Gloucester, Virginia.

Bred in Germany and shipped to you worldwide
We offer safe and secure shipping through our trusted shipping agents. We ship in climate-controlled cargo planes and guide you through the entire process from start to finish. All you have to do is show up at the airport to pick up your puppy.

Quality Over Quantity
They breed with passion and represent the German SV standard for the German shepherd dog. Rich, red and black pigmentation, high drive, a clear head and correct conformation are all qualities represented in their puppies.