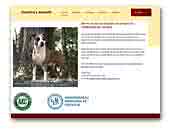 Gadelha's
American Staffordshire Terriers
We are located in North of Brazil, in the middle of the Tropical Rainforest. American Staffordshire Terriers are our passion and we are dedicated to the health, temperament and preservation of the breed we love so much.

Our dogs are part of our family and live in our home. We carry out health checks on all our dogs to ensure optimal health for the future of our breeding stock and breed.