Dog Breeders > Italy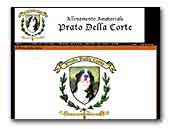 Prato Della Corte
Prato della Corte arises from a dream:
to live in harmony with our dogs, ourselves and the world around us.

We decided to breed for a purpose:
to share with the future owners that ideal framework represented by a combination of matching and then offer them a subject who can get the basics for a peaceful and balanced coexistence.

Our philosophy, hence the choice of our stallions and mares, runs on parallel but inseparable tracks consisting of:
• morphological beauty as a prerequisite for wellness and health,
• proper handling of sensitive periods as a pillar for equilibrium behavior.
This is us, this is the dream we want to share with everyone.

You are most welcome ...
Bernese Mountain Dog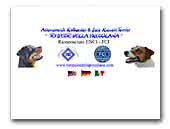 Tempeste della Presolana
Rottweiler & Jack Russell Terrier
Allevamento Riconosciuto ENCI - FCI dispone di cuccioli delle migliori linee di sangue, esenti da patologie ereditarie.
Rottweiler
Jack Russell Terrier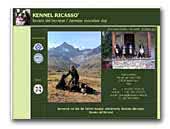 Ricassò - Allevamento dedicato alla razza Bovaro del Bernese
Bernese Mountain Dogs have lived in Ricassò since 1997 and this small kennel is to them fully dedicated.  Ricassò is a vine covered hillside at the foot of the Alps in Valtellina,  where we found our little paradise along with our Berners.

Health, type and temperament is what we are focused on and committed to. Although show winners, our dogs are mainly raised as family dogs and no different lifestyles may match their nature better.
Bernese Mountain Dog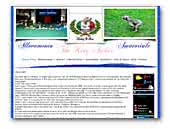 The King Arthur Weimaraner
Allevamento Amatoriale Weimaraner Hunting and Show.
Weimaraner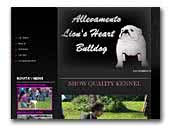 Lion's Heart Bulldog
Allevamento per la selezione del bulldog inglese. Nel nostro allevamento troverete le migliori linee di sangue inglesi,quindi soggetti molto tipici,con qualita da show e soprattutto sani. I nostri sogetti infatti sono testati DNA e Ecocardiodoppler.
English Bulldog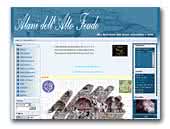 DELL'ALTO FEUDO Kennel
Hight selection of harlequin and black Great Danes.
Great Dane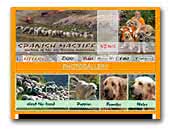 kennel DEL DHARMAPURI Spanish Mastiff
Puppies available from important blood lines.
Spanish Mastiff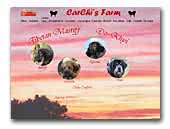 Carchi's Farm
Tibetan Mastiff from Carchi's Farm, little family kennel.
Tibetan Mastiff
« Prev 1 2 3 4 5 6 7 8 9 10 11 12 13 14 15 16 17 18 19 20 21 22 23 24 25 26 27 28 29 30 31 32 33 34 35 36 37 38 39 40 41 42 43 44 45 46 47 48 Next »