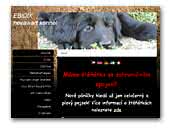 Ebidix Hovawart kennel
We are hovawart kennel from Czech republic near Prague.Since 2008, engaged in farming breed, especially their training, as well as presentations at exhibitions. Our most important breeding aim is to improve the character and fitness of working breed, while maintaining a nice and typical exterior.

Trying to breed healthy individual is self-evident for us. We place emphasis on contact, friendly and balanced character, nice movement, powerful, harmonious and strong bones and typically shaped head. Important for this breed's temperament and composure resistance appreciate not only in everyday life...
Hovawart